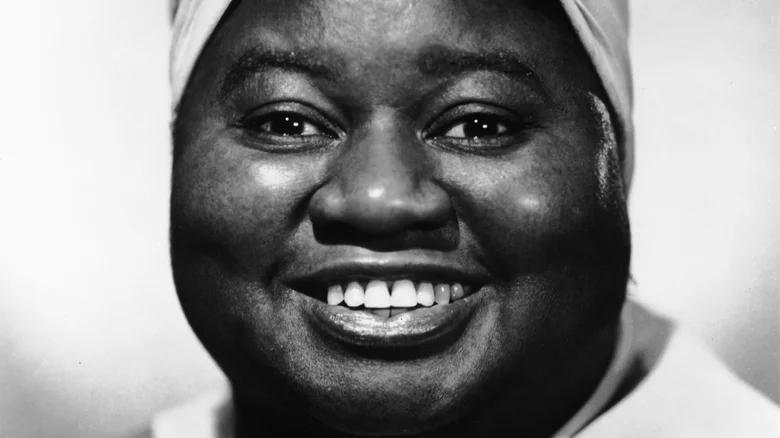 According to Biography, Hattie McDaniel is best remembered for her Oscar-winning role as Mammy in the 1939 film "Gone With the Wind." In fact, Vanity Fair reports that the actress became the first-ever African American to win an Academy Award for her portrayal of the beloved house servant. Born in 1893, NPR states that her parents were former enslaved people, and the family struggled to stay afloat. McDaniel was a natural performer and saw this as her way out of poverty. She dabbled in comedy before transitioning into singing and, eventually, acting. Despite this, McDaniel was met with blatant racism and intolerance throughout her lifetime.
In 1935, McDaniel starred in "The Little Colonel" as a domestic servant. Britannica explains that this led to several similar roles and a successful career. Nevertheless, McDaniel was heavily criticized by fellow African Americans for portraying stereotypical characters (via Smithsonian Magazine). When she won her Academy Award in 1940, McDaniel believed that she was going to be offered more prominent roles (per The Washington Post).
Instead, her career floundered. This, however, did not prevent McDaniel from living like a Hollywood star. In 1941, the Los Angeles Conservancy states that McDaniel moved into a mansion in the city's Sugar Hill neighborhood. Otherwise known as West Adams Heights, her white neighbors sued to have Sugar Hill's various Black residents evicted (via Curbed Los Angeles). Ever the trailblazer, McDaniel led the legal fight against the discriminatory case and won.
HOMEOWNERS WERE REQUIRED TO SIGN RACIALLY MOTIVATED COVENANTS
According to Curbed Los Angeles, West Adams Height was founded in 1902. Prior to its development, the area was a wheat field (via the West Adams Heritage Association). With its expansive streets and elaborate streetlights, the South Los Angeles neighborhood was intended to be an enclave for the city's wealthy white elite. Shortly after, new residents began to build elaborate Victorian and craftsman homes. However, one of the stipulations that homeowners had to adhere to was signing a racially restrictive covenant. As Los Angeles City Planning explains, this document ensured that the neighborhood stayed white. By signing the covenant, homeowners were prohibited from selling or leasing their homes to African Americans and other minorities.
In addition, the West Adams Heritage Association states that the covenant made it necessary for a homeowner to build what was described as a "first-class residence." In other words, the homes were to be large and lavish, with at least two stories and a minimum cost of $2,000. NPR points out that these covenants were not exclusive to just Los Angeles — they occurred everywhere throughout the country.
Click here to read more.
SOURCE: The Grunge, Leslie Veliz