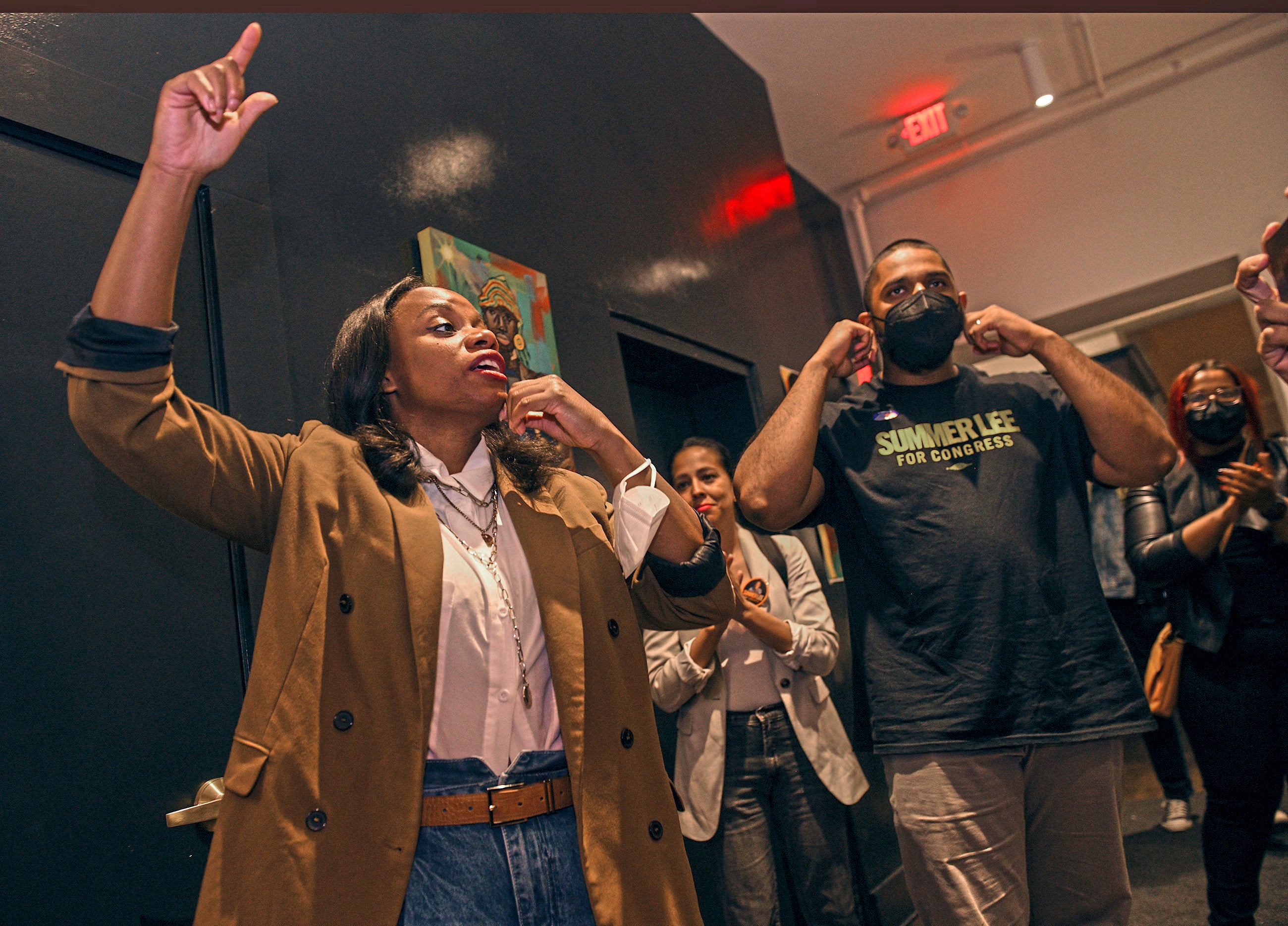 The Democratic primary between state Rep. Summer Lee and Squirrel Hill attorney Steve Irwin to fill Pennsylvania's redrawn 12th Congressional District was too close to call early Wednesday in a race that highlighted growing fracture between the county's party establishment and growing progressive wing.
Ms. Lee, a 34-year-old Mon Valley native and onetime labor organizer, and Steve Irwin, a 62-year-old business and labor law lawyer from Squirrel Hill, ended the night neck and neck, while University of Pittsburgh professor Jerry Dickinson, 35, trailed a distant third in the three-way race to represent the city of Pittsburgh and surrounding areas on the Democratic ticket.
As of Wednesday morning, Ms. Lee had 46,589 (41.51% of the total) votes to Mr. Irwin's 46,143 (41.11%), according to Allegheny and Westmoreland County's elections divisions.
Mr. Dickinson was well behind the two leaders, with 12,154 votes (10.83%). Jeff Woodard, executive director of the Pennsylvania College Access Program, was fourth with 5,318 votes (4.74%), and activist Will Parker was fifth with 1,625 (1.45%).
Acknowledging that votes were still being counted — but all but declaring victory Tuesday night — Ms. Lee said from her Downtown campaign reception that "this is our movement."
"They hit us with everything they had, and we clawed and we ran, and we got the power of the people. We're out here in Western Pennsylvania fighting for the future of the whole country," she said. "They say a Black woman can't win. Well, we came together. We can't be stopped. We have a lot of work ahead of us. When we set out to do this, we believed a better world was possible; now we have to go do it."
Mr. Irwin, a member of the Allegheny County Democratic Committee for more than three decades, headed into Tuesday with the organization's endorsement and several well-known local names in his corner: retiring Rep. Mike Doyle, Allegheny County Executive Rich Fitzgerald, former Mayors Bill Peduto and Tom Murphy, and former Pennsylvania Gov. Ed Rendell.
Click here to read more.
SOURCE: Pittsburgh Post-Gazette, Ashley Murray and Kris B. Mamula