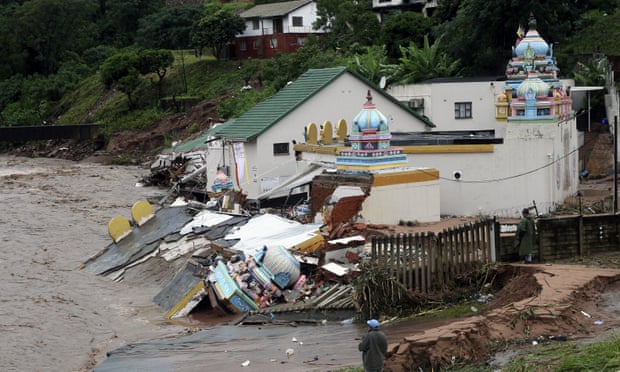 The massive and deadly floods that struck South Africa in April were made twice as likely and more intense by global heating, scientists have calculated. The research demonstrates that the climate emergency is resulting in devastation.
Catastrophic floods and landslides hit the South African provinces of KwaZulu-Natal and Eastern Cape on 11 April following exceptionally heavy rainfall.
The South African president, Cyril Ramaphosa called the floods a "catastrophe of enormous proportions" and "the biggest tragedy we have ever seen", later declaring a national state of disaster. At least 453 people were killed and the port of Durban, the largest in Africa, was closed, causing global disruption in the supply of food and minerals.
Other recent studies found that the heatwave in the Pacific Northwest region of North America in 2021 would have been "virtually impossible" without climate change, and that global heating exacerbated the extreme floods in Europe in July 2021 and the storms in Madagascar, Malawi and Mozambique in January.
"If we do not reduce emissions and keep global temperatures below 1.5C, many extreme weather events will become increasingly destructive," said Dr Izidine Pinto, at the University of Cape Town and part of the team that conducted the analysis. "We need to drastically reduce greenhouse gas emissions and adapt to a new reality where floods and heatwaves are more intense and damaging."
Click here to read more.
SOURCE: The Guardian, Damian Carrington