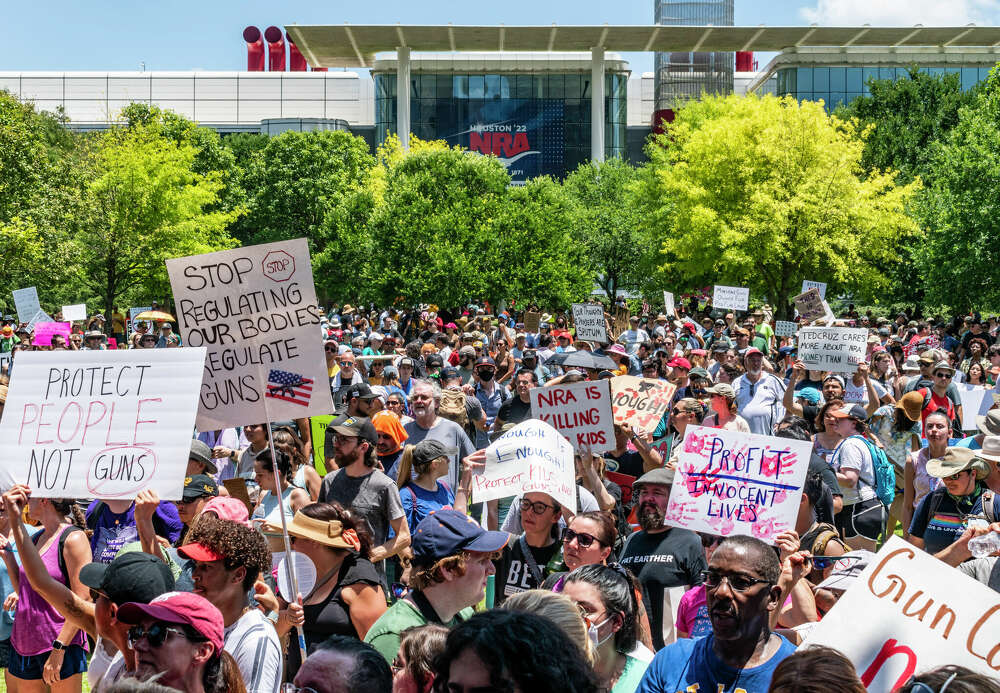 Protesters are making good on a promise to put pressure on the National Rifle Association during its annual convention in Houston this Friday, days after a legally armed teenager allegedly shot and killed 19 students and two teachers inside a Uvalde elementary school.
The investigation into the shooting—as well as the delayed police response—remains active Friday as several Republican officials, including former President Donald Trump and Sen. Ted Cruz, are set to speak to members of the NRA. Gov. Greg Abbott and others have backed out of attending the meeting, although the governor will deliver pre-recorded remarks to the assembly.
The protest garnered an estimated 4,000-plus demonstrators, according to an officer from the Houston Police Department, as well as several speakers, including U.S. Rep. Sheila Jackson Lee and Harris County Judge Lina Hidalgo.
"Our hearts do break," Hidalgo said to the crowd. "Kids are terrified. Moms are terrified. Dads are terrified. Teachers, school administrators, they're carrying the weight of the world on their shoulders."
Hidalgo, who wore T-shirt from national gun safety organization Moms Demand Action, continued: "I offer my sadness. I offer my anger. I know I share it with you. I offer my thoughts and I offer my prayers," Hidalgo said, calling out Republican leaders who offered their thoughts and prayers for victims following the Uvalde shooting. "But you did not elect me to offer my thoughts and to offer my prayers."
Click here to read more.
SOURCE: Houston Chronicle, Ariana Garcia and Jay R. Jordan