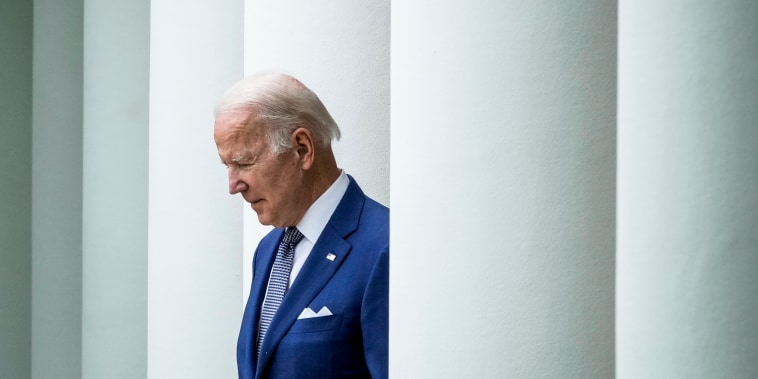 Faced with a worsening political predicament, President Joe Biden is pressing aides for a more compelling message and a sharper strategy while bristling at how they've tried to stifle the plain-speaking persona that has long been one of his most potent assets.
Biden is rattled by his sinking approval ratings and is looking to regain voters' confidence that he can provide the sure-handed leadership he promised during the campaign, people close to the president say.
Crises have piled up in ways that have at times made the Biden White House look flat-footed: record inflation, high gas prices, a rise in Covid case numbers — and now a Texas school massacre that is one more horrific reminder that he has been unable to get Congress to pass legislation to curb gun violence. Democratic leaders are at a loss about how he can revive his prospects by November, when midterm elections may cost his party control of Congress.
"I don't know what's required here," said Rep. James Clyburn, D-S.C., whose endorsement in the 2020 Democratic primaries helped rescue Biden's struggling candidacy. "But I do know the poll numbers have been stuck where they are for far too long."
A West Wing shakeup?
Speculation is churning that Biden could shake up the West Wing staff, although that's not about to happen right away. Multiple people close to the White House said they've heard that chief of staff Ron Klain will depart at some point after the midterms, and one has heard him discuss leaving.
Should Klain go, a potential successor is Anita Dunn, a White House adviser and Biden confidant whom he often turns to when his fortunes look bleak. Dunn began working at the White House at the start of the term, then left and returned in early May at Biden's specific request. No woman or person of color has ever been the White House chief of staff since the position was created after World War II.
Other possible replacements include Steve Ricchetti, a longtime Biden aide who is a counselor to the president, and Susan Rice, the domestic policy chief. After he lost the Virginia governor's race last year, Terry McAuliffe spoke to the White House about taking a senior role as an adviser to the president, Cabinet secretary or chief of staff, people familiar with the matter said.
Click here to read more.
SOURCE: NBC News, Carol E. Lee, Peter Nicholas, Kristen Welker and Courtney Kube