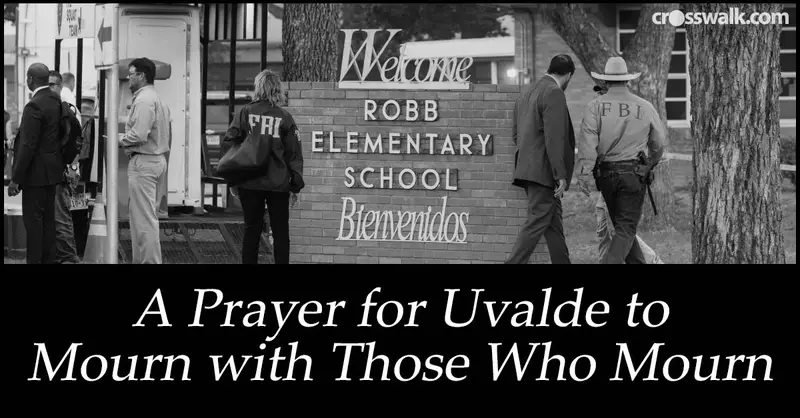 "O Spirit who enters our every grief, intercede now for this hurting people, in this broken land…move our hearts to compassion, O Lord, that we would interact with these casualties, not as news stories or statistics, but as our own sisters and brothers, flesh and blood, divine image-bearers, irreplaceable individuals whose losses will leave gaping holes in homes, friendships, workplaces, churches, schools, organizations, and neighborhoods." A Liturgy for Grieving a National Tragedy, from Every Moment Holy, Vo. 2 (emphasis mine)
I saw a photo of one of the ten-year-old boys who was killed in the Uvalde, Texas, school shooting, and my heartache multiplied. There is a deepening of the wound as we move from being shocked by the violence and appalled by the numbers to seeing the actual faces of the victims and those whose lives they touched. No words will ever be sufficient, but we must use them as we witness and grieve. We must choose and use our words cautiously, compassionately, and courageously. We must cry out to God, begging him to be present and merciful to those wounded, grieving, and in so many ways, irreparably broken.
Regardless of where one stands on the political issues involved, we must not lose sight of the fact that there are people involved who need to be loved and cared for and seen and heard. YES, there are issues at hand that are imperative to address, problems that MUST be solved. And yet here, now, this very moment, we must mourn with those who mourn (Romans 12:15). Let us approach the throne of grace with boldness (Hebrews 4:16) and ask the God of mercy to teach us how to better mourn with his mourning children. "Let any spoken comforts we offer be the fruits of a real and costly fellowship with those who grieve" (Every Moment Holy, Vol. 2). We have a holy and mighty God who will teach us how to share in their sorrow in meaningful ways instead of offering platitudes. Let us come alongside the grieving not by saying we offer thoughts and prayers but instead by falling to our knees and asking the Holy Spirit to intercede "with groanings too deep for words" (Romans 8:28, ESV).
Click here to read more.
SOURCE: Crosswalk, Cheryl Gilbert