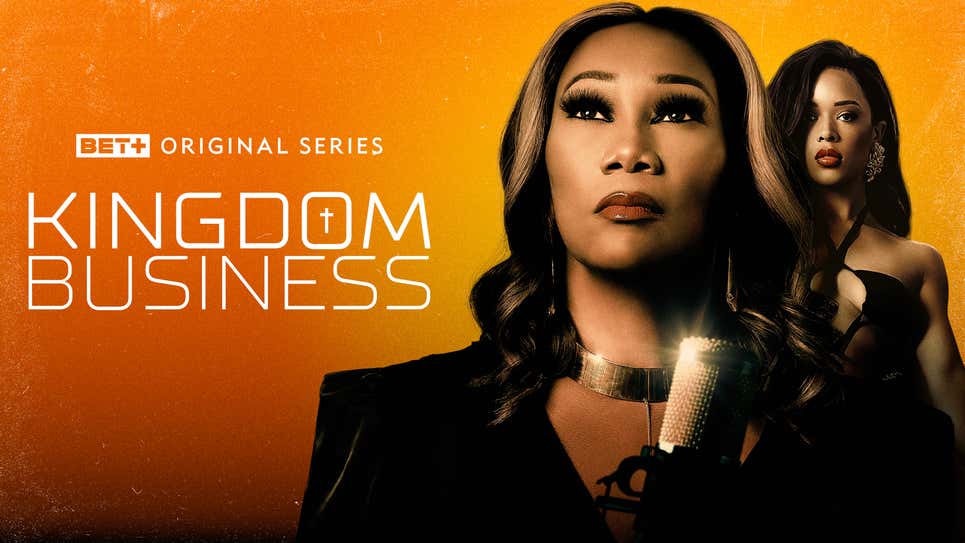 Yolanda Adams is about to meet her match on BET+'s new music drama, Kingdom Business, which premieres Thursday, May 19. Only ET has the exclusive first look at the action-packed official trailer.
The gospel queen stars in the upcoming eight-episode series as reigning gospel superstar, Denita Jordan, who runs an in-house record label, Kingdom Records, in addition to acting as First Lady of First Kingdom Church, and is determined to guard her family and its many secrets at all cost. Just as Denita is enjoying the fruits of her labor, the world she's worked so hard to put together begins to unravel when an unexpected contender in the gospel music scene, Rbel (Serayah), threatens her status. The rising star — with a checkered past as an exotic dancer — is no match for her destiny to turn the gospel world on its head with her newfound voice.
In ET's exclusive trailer, Denita gets wind that her label is failing financially, and the only way to resurrect it back to its former glory is to find fresh new talent. She appoints her son, Taj (Chaundre A. Hall-Broomfield), to seek out a hot young singer to bring the label back to life. A chance meeting at a funeral leads Taj to Rbel, who showcases her stunning pipes. But she doesn't have a spotless past, as Taj learns when he visits the strip club she works at, to persuade her to ditch that life and become a real singer. (Her funeral performance, after all, was viewed more than 2 million times.)
"She's everything Kingdom needs. She can reach people that you never could," Taj tells Denita point-blank, causing her to slap him across the face at the diss.
Click here to read more.
SOURCE: ET Online, Philiana Ng‍