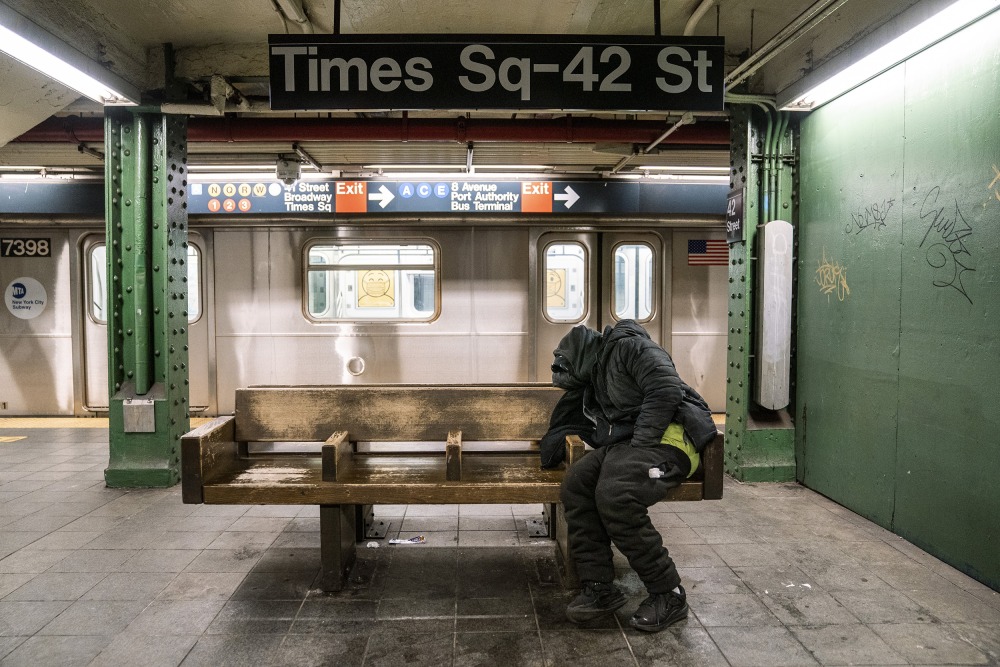 In an attempt to curb rising crime in the subway system, New York Mayor Eric Adams announced a new plan that specifically targets homeless people — a move advocates say could have a disproportionate impact on communities of color.
The mayor's announcement that people will no longer be able to sleep on subway cars or engage in other behaviors deemed unsafe or a public disturbance comes after several high-profile acts of violence. Within the past month, multiple people were attacked while traveling on the subway, including a 30-year-old woman who police said was struck in the head with a pipe by a homeless man. In January, police said Michelle Go was pushed to her death by a homeless man while waiting at the Times Square station.
"We have to be honest about the numbers of individuals who are dealing with mental health crises," Adams said at a news conference last month. "They are dangerous to themselves and dangerous to New Yorkers."
According to data released by the New York Police Department, New York City's overall index of crime in January increased by 38.5 percent compared to January last year. On transit specifically, 198 crimes took place in January — an increase of 75.2 percent compared to January 2021.
In response to the city's escalating crime rate, Adams deployed more police to patrol the train stations, resulting in more than 100,000 inspections since the beginning of the year.
But some fear the city's new plan will unfairly criminalize homelessness and people of color.
"Over the course of the pandemic, people have recognized that police should not be the first tool that cities used to respond to a variety of social ills, and it feels like this is sort of a step backward that could actually increase police interactions with homeless New Yorkers who are disproportionately Black and Latino," Jacquelyn Simone, policy director for the New York City social services group Coalition for the Homeless, told NBC News.
Click here to read more.
SOURCE: NBC News, Claretta Bellamy