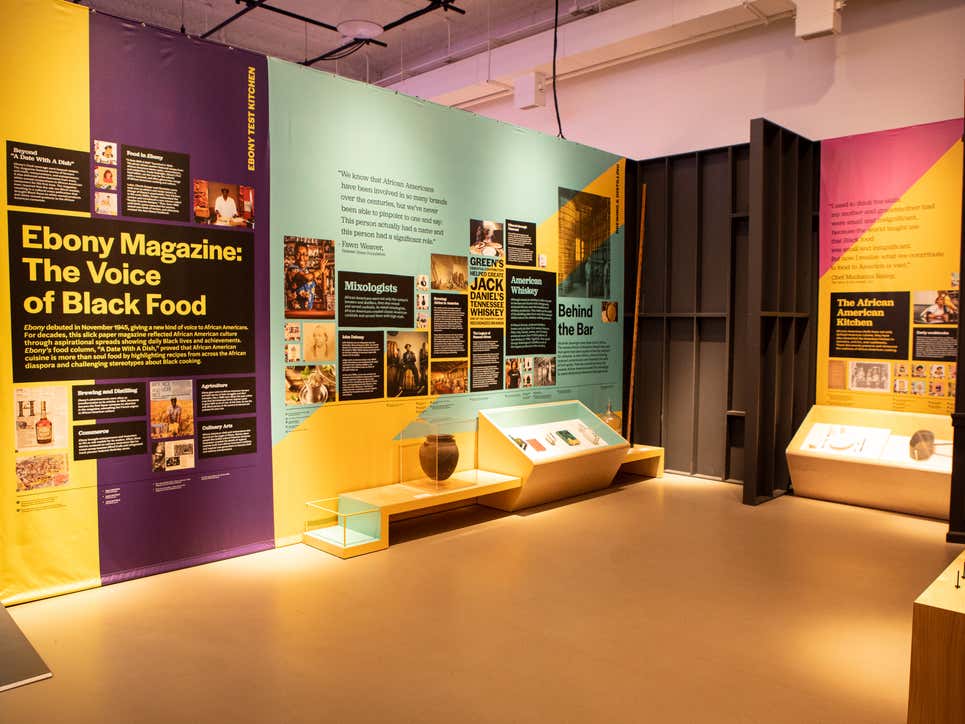 If the 2021 Netflix docuseries High on the Hog didn't do a good enough job at convincing you of the overwhelming impact and influence Black Americans had and have on this country's food ways and cultures, then allow the latest exhibition at New York's Museum of Food and Drink (MOFAD) to further make the case.
Presented by The Africa Center in Harlem, "African/American: Making the Nation's Table" seeks to celebrate the countless contributions of Black chefs, farmers, and food and drink producers who have laid the foundation for American food culture. Curated by acclaimed culinary historian and author Dr. Jessica B. Harris (who wrote the book that the Netflix series was based on, BTW) and advised by Chef Pierre Thiam (co-owner of Teranga the West African restaurant located inside The Africa Center), the exhibition includes notable highlights like The Legacy Quilt— composed of 406 blocks—sewn into a vast representation of African-American contributions to the fabric of American cuisine, a dynamic digital interactive feature that replicates a dinner table, allowing users to unlock stories about migration, movement, cultural evolution and more.
"We all came up with it together," Dr. Harris explained to The Root. "And it grew organically. Then it became, 'OK how are we gonna show this? How are we gonna showcase this?'"
She continued, "We could fill a space probably the size of the Metropolitan Museum of Art with stuff on African-Americans and food. There is so much and the thing that is rich about the topic is that every day we discover new things. The work is still going on, it's not static, it's ever-evolving. The connections are still being discovered. New foods are being added, we are reconnecting with the continent and with the foodways of the continent. There are so many things, so very many things that can be discussed and added."
Click here to read more.
SOURCE: The Root, Shanelle Genai