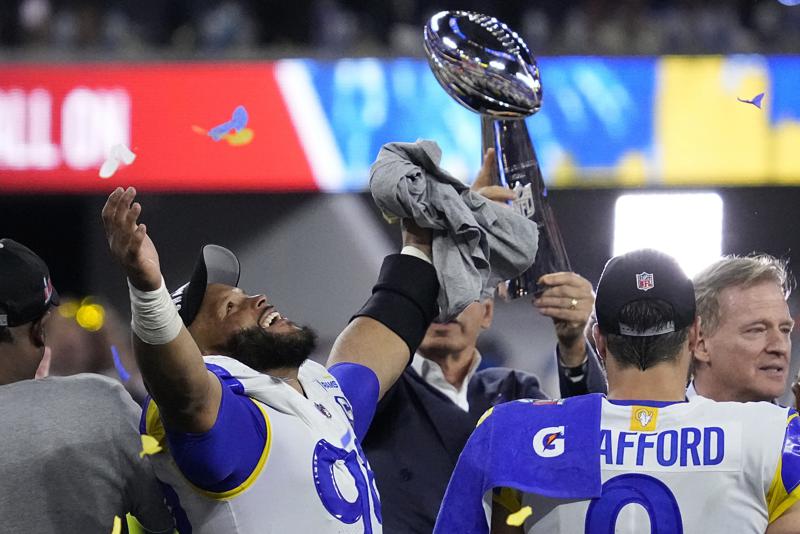 'Super Bowl LVI was shaping up to be a supersized disappointment for the Los Angeles Rams.
They had lost their lead during a disastrous start to the second half. They had lost one of their best players in wide receiver Odell Beckham Jr. to a knee injury. They were about to waste MVP-caliber performances from Aaron Donald and Von Miller, not to mention what might be their best shot at a championship in the foreseeable future.
Then, as they have so many times during the Rams' championship season, quarterback Matthew Stafford and wide receiver Cooper Kupp came to the rescue.
In a drive that will go down in NFL lore, Kupp converted a fourth down with an end around, drew three straight penalties and caught four passes from Stafford, the last of which produced a 1-yard touchdown with 1:25 left, capping a 79-yard drive that started with 6:13 remaining.
Donald then closed the door with another pressure of Bengals quarterback Joe Burrow on fourth-and-1 from the Rams' 49 with 39 seconds left.
The Rams' return to the top of the NFL world is the perfect ending to a story that reads like a Hollywood script.
They mortgaged their future, trading high draft choices in an all-in effort to win Super Bowl LVI at SoFi Stadium — in the first season with fans at owner Stan Kroenke's $5 billion venue — and it paid off with a 23-20 victory over the Cincinnati Bengals on Sunday. It was the Rams' second Super Bowl championship and first title in Los Angeles since 1951.
"It feels outstanding. You talk about a resilient team, coaches, players. I'm so proud of this group, just proud to be associated with it," Rams coach Sean McVay said. "We talk about competitive greatness all the time, being your best when your best is required. For the offense to be able to find a way and then Aaron to be able to finish it off, it's poetic, man."
They moved back to Los Angeles in 2016, a homecoming that followed a 21-year run in St. Louis that was highlighted by a win in Super Bowl XXXIV in 2000. They fell hard in Super Bowl LIII to the Patriots after the 2018 season, setting the stage for eventual redemption.
They got it thanks to a string of bold moves.
Hiring 30-year-old McVay as head coach in 2017, making him the youngest head coach in the league's modern history.
Trading two first-round draft choices to the Jacksonville Jaguars for cornerback Jalen Ramsey in October 2019.
Trading quarterback Jared Goff, two first-round picks and a third-round pick to the Detroit Lions for Stafford in January 2020.
Trading a second- and third-round pick to the Denver Broncos for Miller on Nov. 1.
Signing Beckham Jr. to a one-year contract on Nov. 11.
Click here to read more.
SOURCE: ESPN, Brady Henderson