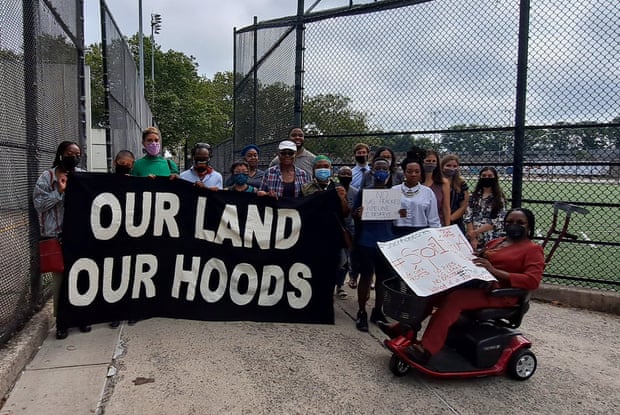 At first glance, the construction along the Brooklyn streets appeared routine. "You wouldn't think anything of it," said Fabian Rogers, a community organizer in Brownsville, a majority Black neighborhood where construction began in 2017.
It wasn't until years later, in 2020, that he learned that the overturned streets were making way for a fracked gas pipeline. "It just felt like a big slap in the face – to have [a pipeline] in my backyard that I didn't know about," he said.
Rogers and other residents have spent the last two years protesting National Grid's 7-mile pipeline, which zigzags through predominantly Black and Latino neighborhoods, bypassing whiter, wealthier parts of Brooklyn. Formally known as the Metropolitan Reliability Project, the pipeline is often referred to as the north Brooklyn pipeline. They have blocked the pipeline's construction at demonstrations and some have stopped paying part of their utility bills, in an effort to divert funding from the project.
Last summer, they went a step further, filing a complaint against the utility and state that argues the pipeline has resulted in racial discrimination, violating Title VI of the 1964 Civil Rights Act. (Title VI prohibits federally-funded entities from discriminating on the basis of race, gender, and other protected identities.)
Historically, the Environmental Protection Agency (EPA) has been slow to act on these types of complaints, rarely finding evidence of discrimination. But under the Biden administration, the agency has committed to changing this. How the EPA responds to this challenge – in which Black, Indigenous, and brown-led community groups say a fracked gas pipeline represents a violation of their civil rights – will be a test of the agency's ability to execute on that promise.
Click here to read more.
SOURCE: The Guardian, Greta Moran