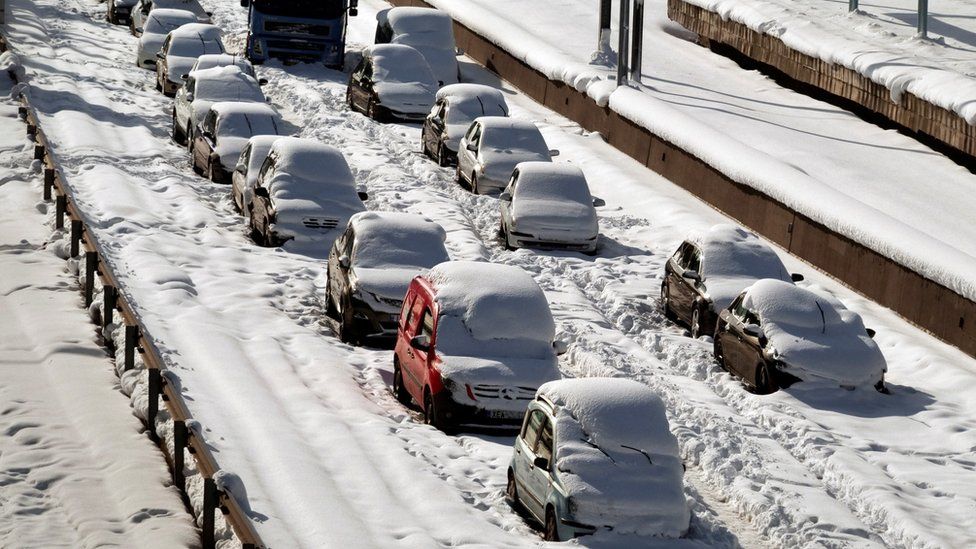 Thousands of motorists left stranded on a motorway around the Greek capital Athens have been rescued overnight after a severe snowstorm swept across the Mediterranean region.
More than 3,500 people were rescued on Monday, but about 300 drivers remained on the Attiki Odos motorway overnight.
Authorities say the storm, named Elpida, will persist until Wednesday.
Overnight temperatures plummeted to -14C. Government spokesman Giannis Oikonomou told reporters that the country remained "in a very difficult phase, as the forecasts indicate that we will face difficulties again in a while".
He also defended the slow evacuation of motorists trapped on the motorway in the face of criticism from some Greeks on social media, saying that a "superhuman evacuation effort is under way".
Environment Minister Christos Stylianides sought to blame the motorway's management company for the chaos, saying that it had "failed to maintain normal traffic conditions despite earlier promises that they will take adequate measures to do so".
Click here to read more.
SOURCE: BBC