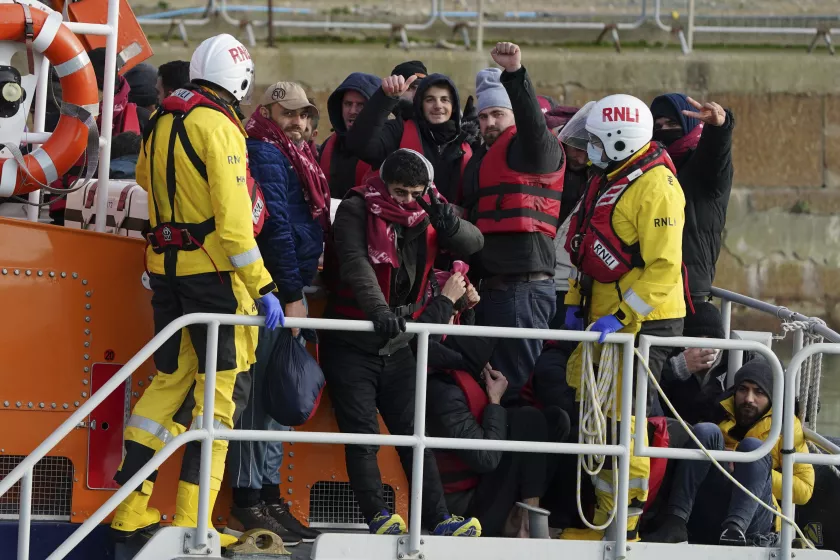 As reported Tuesday by the Press Association news agency based on data from Britain's Home Office, at least 28,300 people packed into small boats crossed the English Channel from France to England's south coast in 2021, an annual record that was three times the number of crossings a year earlier.
These people seeking a better life risk anything as they travel in flimsy boats provided by people smugglers.
As winter approached last year, November was the busiest month for crossings of the Channel, which is about 20 miles (32 kilometers) wide at its narrowest point, with 6,869 people reaching the U.K. On Nov. 11 alone, 1,185 people made the risky crossing in 33 boats.
Activists are calling for the British government to offer more opportunities to asylum-seekers in a bid to decrease the number of Channel crossings.
Tim Naor Hilton, chief executive at Refugee Action, said that the U.K. government's policy will lead to more deaths in the Dover Strait.
"People will continue to cross the Channel in flimsy boats, and smugglers will continue to profit, unless ministers open up more routes for refugees to claim asylum here," Naor Hilton said.
Clare Moseley, founder of charity Care4Calais which supports refugees living in northern France, agreed.
"If the government were serious about stopping people smugglers, it would create a safe way for people to claim asylum and put people smugglers out of business once and for all," she said.
The crossings have become a source of tension between France and Britain.
When the reforms were introduced to Parliament in July, Naor Hilton said they were "built on a deep lack of understanding of the reality of refugee migration."
– Ella Beedlove