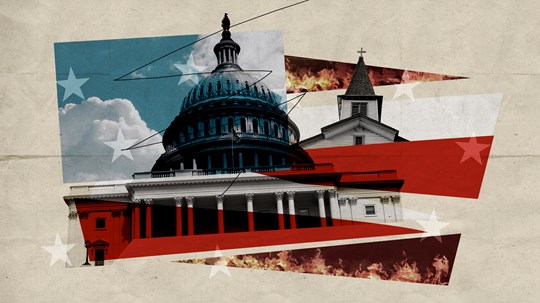 This piece was adapted from Russell Moore's newsletter. Subscribe here.
Last week an old video resurfaced on Twitter in which John MacArthur, pastor of Los Angeles's Grace Community Church, announced he did not support religious freedom. In the clip, MacArthur argued that supporting religious freedom promotes idolatry and enables the kingdom of darkness—that "religious freedom is what sends people to hell."
Some reports contend that quote is out of context, fitting as it does in a larger argument. Even so, this kind of argument against religious freedom is a familiar one—usually in reference to somebody else's religion.
Years ago, a pastor told me that religious freedom is essentially the affirmation of the words of the Serpent, "Ye shall not surely die" (Gen. 3:4). To grant religious freedom for false religions, this person contended, is the equivalent of allowing the prophets of Baal have a place of their own on Mount Carmel.
These are certainly statements of strong conviction—like propositions of biblical truth for to which the only appropriate response should be a loud "Amen!" That is, until one actually listens to what is being said and hears it for what it is: theological liberalism.
Religious freedom, after all—whether as articulated by the early British Baptists, the persecuted Anabaptists of the Reformation era, or the colonial American evangelists and their allies—has never been a "You believe in Baal; I believe in God; what difference does it make?" kind of pluralism.
The question of religious freedom is who should have regulatory power over religion. If you believe religion shouldn't be regulated by the state, then you believe in religious freedom.
That's why denominations with "free" in their name (like the Free Methodists, for instance)—along with those who believe in the necessity of personal repentance and faith—have been the most dogged supporters of religious freedom for all.
These groups of people understand that the gospel according to Jesus is not an external affirmation of generic belief, from a heart still untransformed. It is not accepting Christianity as a ticket of admission into society.
Rather, the gospel according to Jesus means that there is one God and one Mediator between God and men, the man Christ Jesus (1 Tim. 2:5). One can stand before God at judgment only by union with the crucified and resurrected Jesus Christ. And one can only come into union with Christ by grace through faith (Rom. 3:21–31).
That faith—as defined by Jesus and his apostles—does not come through the proxy of a nation or a ruler, or even a religious structure. If that were the case, John the Baptist would not have needed to preach repentance to the descendants of Abraham (Matt. 3:10). Moreover, the apostle Paul could have found no fault in those who served the false gods chosen for them by their national or family traditions (Acts 17:22–31).
Instead, the gospel addresses each person—one by one—as an individual who will stand before the judgment seat of Christ, who will give an account, and who is commanded to personally believe the gospel and repent of their sin (Rom. 10:9–17).
As Jesus said to Nicodemus by night: "Truly truly, I say to you, unless one is born again he cannot see the kingdom of God" (John 3:3, ESV).
And how does this new birth, this personal receiving of Christ by faith, occur? It does not happen by the changing of a family crest or by a vote of the city council, but through the Spirit opening the heart—through an "open statement of the truth" commending itself to each conscience (2 Cor. 4:2).
Click here to continue reading.
SOURCE: Christianity Today – Russell Moore