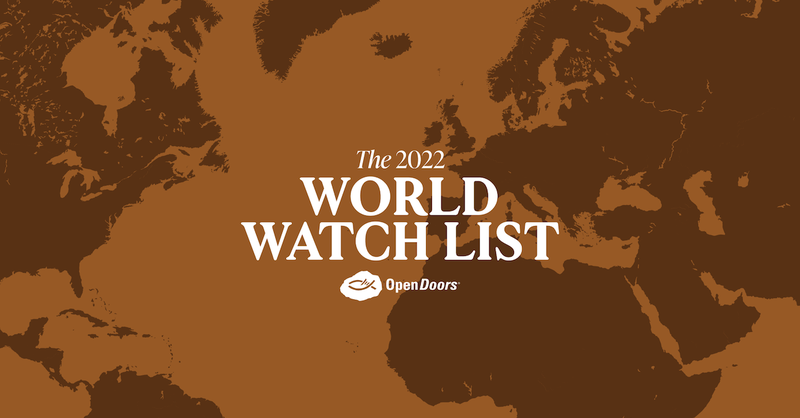 A woman in India watches as her sister is dragged off by Hindu nationalists. She doesn't know if her sister is alive or dead.
A man in a North Korean prison camp is shaken awake after being beaten unconscious; the beatings begin again.
A woman in Nigeria runs for her life. She has escaped from Boko Haram, which kidnapped her. She is pregnant, and when she returns home, her community will reject her and her baby.
A pastor in Afghanistan gets a text message, letting him know the Taliban knows he is a Christian—and they're coming for him.
These people don't live in the same country or continent. But they share an important characteristic: They are all Christians, and they suffer because of their faith.
This week, Open Doors released the new 2022 World Watch List that ranks the top 50 countries where Christians face persecution because they follow Jesus. The list is part of an in-depth research report that looks at how Christians around the world are suffering for their faith.
Below are five critical findings from this year's list that should drive us to our knees in prayer for those who share our faith but not our freedom:
1. Modern-day Christian persecution is at an all-time high.
Today, more Christians are facing extreme persecution than at any other time in modern history. In 2021 (the reporting period for the 2022 list), more than 360 million believers suffer for their faith. To get an idea of the magnitude we're talking about, imagine 3,600 crowded NFL stadiums, brimming with people. While Christian persecution takes many forms, it is defined as any hostility experienced because of identification with Jesus Christ. From Sudan to Afghanistan, from Nigeria to North Korea, from Colombia to India, followers of Christianity are targeted for their faith. They are attacked. They are discriminated against at work and at school. They risk sexual violence, torture, arrest and much more.
Click here to read more.
SOURCE: Crosswalk