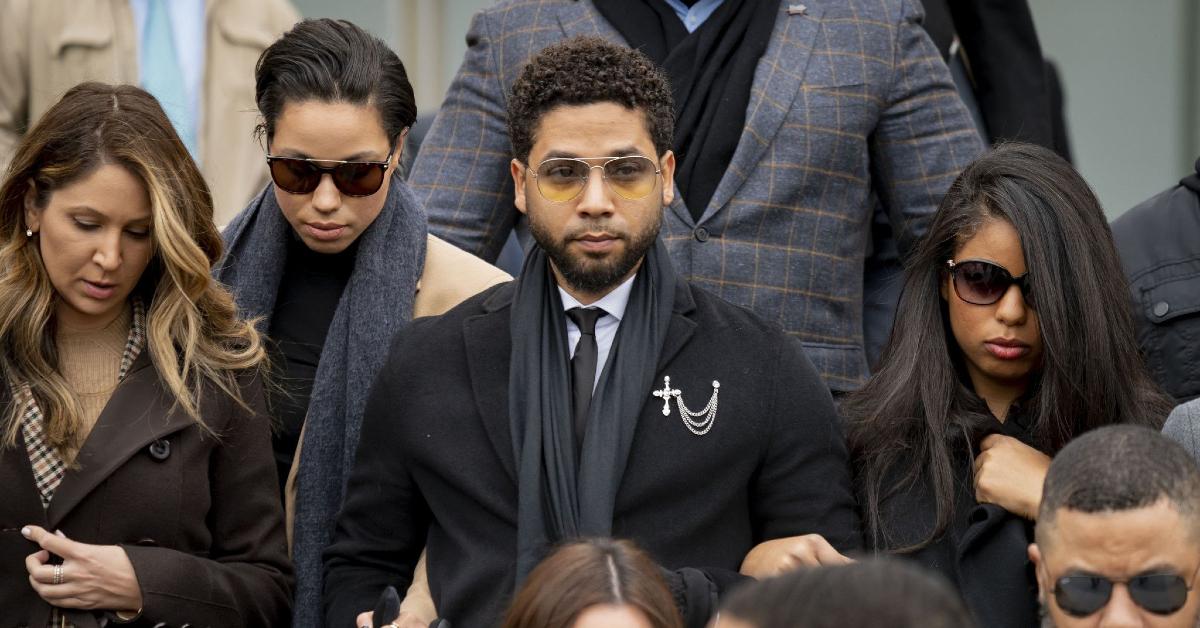 Jussie Smollett said that he put the noose that had been placed on his neck back on before calling police because his manager told him 'you can't be f—–g with evidence' on cross-examination at his trial in Chicago Monday.
The actor took the stand for three and a half hours of direct examination from attorney Nenye Uche's team at Leighton Criminal Courthouse in Chicago Monday.
Smollett admitted to hooking up at a gay bathhouse with one of the two brothers involved in attacking him but said 'there was no hoax' – as the fired Empire actor testified Monday in his trial for lying to police about being the victim of a hate crime.
He was then questioned for the remainder of the day by special prosecutor Dan Webb on cross-examination.
Smollett did testify on direct that he and Abimbola Osundairo had been to gay bathhouses together where they had done drugs and 'masturbated together' in a private room.
The actor's attorneys have claimed that it was a 'real' attack and that Osundairo and his brother, Olabinjio, made up the story about a hoax then asked Smollett for $1 million each to not testify against him at trial.
Osundairo admitted that he had gone to the bathhouse with Smollett when he was cross-examined last week on the stand by the defense lawyers – but testified that there was no relationship between the two and was unaware if the bathhouses they'd gone to were frequented by gay people.
Smollett contradicted those claims, saying he and Abimbola got a private room and 'there was some touching.' The actor also said there was gay pornography on the bathhouse walls.
He then said that he and Abimbola had been to the same bathhouse together a second time, after leaving a strip club with Abimbola's brother, Olabinjio.
'We went alone, we got a private room again,' Smollett said. 'We made out a little bit and this time we masturbated together.'
The actor spoke of the night of the attack, saying that he had planned to go to Wallgreens to purchase four eggs on the advise of Abimbola, who had become Smollett's paid nutritionist, he alleged.
Smollett said that Abimbola called him the night of the attack to talk about Smollett's training and meal plan. He told Jussie he had to eat 4 eggs, so Smollett told Abimbola about going to Walgreens to get eggs.
The actor had just come home from an audition in New York City. He claimed he rolled a blunt but did not smoke it, then put on a sweater and jacket and set out for Walgreens, he testifies. However, the local Walgreens was closed, so he decided to go to a nearby Subway instead.
Upon leaving Subway, Smollett said he heard someone say 'f—-t Empire n—-r.' He turned around, furious at what he'd heard.
'It felt like something out of Looney Tune adventures,' Smollett said. 'Someone that felt massive just coming up to me, not enough time to even think.'
He said the attacker hit him just above his left eye. Smollett wants to think he landed a punch in response but is unsure, however, he was still sure he threw one.
Smollett claimed he assumed the attacker was white because the assailant had called him the n-word and mentioned being in 'MAGA country.'
The Empire star then claimed he slipped on some ice and wound up tussling with the two attackers on the ground.
He then said he was kicked on his right side before the two attackers got up and ran away. He then got up and began gathering his belongings, including his phone and food.
It was only when he'd got back to his apartment that he noticed the noose on his neck.
Asked why he didn't recognize the rope was there at that moment, Smollett replied, 'Because I was getting my ass whupped.'
Smollett was then asked why he didn't call police. He said there were multiple reasons. 'One, I am a Black man in America. I do not trust police. I'm sorry, but that's the truth.'
He also mentioned his celebrity, his homosexuality, and that he didn't want to be known for getting beaten up. The actor said he did not want to be portrayed as the 'f—-t who just got his ass beat.'
Smollett said he was furious when his manager called the police.
Despite his reservations, Smollett says when authorities arrived 'they were so nice to me.'
On cross-examination, Webb went after Smollett's reluctance to both speak to and share evidence with the Chicago police.
Webb began by asking Smollett: 'Did you refuse to provide evidence that you knew would be helpful to the police investigation?'
After some quibbling, Webb asks Smollett how often the actor told Chicago police he'd been the victim of a hate crime. Smollett says, 'many times, I don't know.'
Smollett said there were certain things 'I decided I did not want to give' based on police questions.
He then added: 'I told them the truth, that I was the victim of a hate crime.'
Webb asked Smollett if he wanted the cops to believe he was the victim of a hate crime. Smollett said he wanted them to solve a crime that had happened to him.
The special prosecutor then asked Smollett if he refused to give police his phone because it would show his contact with Abimbola Osundairo. Smollett said 'there was no reason to be concerned about the Osundairo brothers.'
Webb then asked Smollett about refusing to give DNA to Chicago police, when he ended up giving it to the FBI anyway.
He asked: 'Didn't you tell police you would cooperate 100 percent?'
Smollett responded: 'I told them I would cooperate. We didn't talk percentages.'
Webb then questioned why Smollett took the noose that had been placed on his neck off and then put it back on before calling police. Smollett claimed it's because the manager told him 'you can't be f—–g with evidence.'
In a remark that was presented and then stricken from the record, he said things began to seem off when he received a text message from CNN anchor Don Lemon claiming the Chicago police had reached out to Lemon to say they didn't believe Smollett.
Click here to read more.
SOURCE: Daily Mail / Associated Press