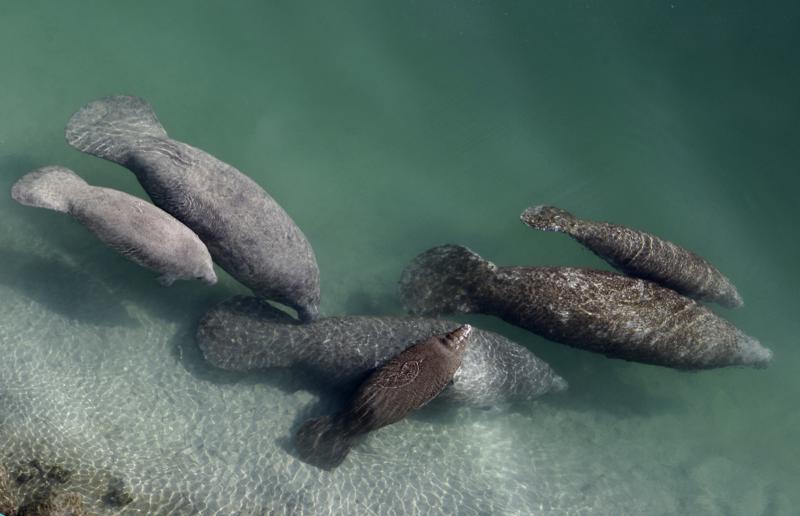 The U.S. Fish and Wildlife Service and state environmental officials will unveil a proposal this week to feed more than 1,000 manatees starving in Florida. Officials are considering an unprecedented feeding plan which has never been done before and especially to wild animals. But the situation in Florida has become such an emergency that it has to be considered, said Save The Manatee Club Executive Director Patrick Rose.
"It's the entire ecosystem that is affected by this and will be affected for a decade to come," Rose said in an interview Tuesday. "This is a necessary stopgap measure. It is a problem created by man and man is going to have to solve it."
The emerging plan would involve feeding manatees at a Florida Power & Light plant in Cape Canaveral, along the Indian River Lagoon on the east coast where manatees congregate in cold winter months because of the warm water discharge from the plant. It would be an experiment involving lettuce, cabbage, and other greens delivered in a controlled manner such as via a conveyer belt, Rose said.
Manatees have long struggled to survive with humans. Hundreds of the slow-moving animals are struck every year by boats, which has led to no-wake manatee zones throughout Florida with violations punishable by significant fines. But the starvation threat has led to a record 1,017 manatee deaths as of Nov. 19, according to state figures.
Aside from protecting the animals, there is an economic loss for boat captains, sightseeing tours and others who flock to Florida for the chance to see these creatures.
– Ella Breedlove