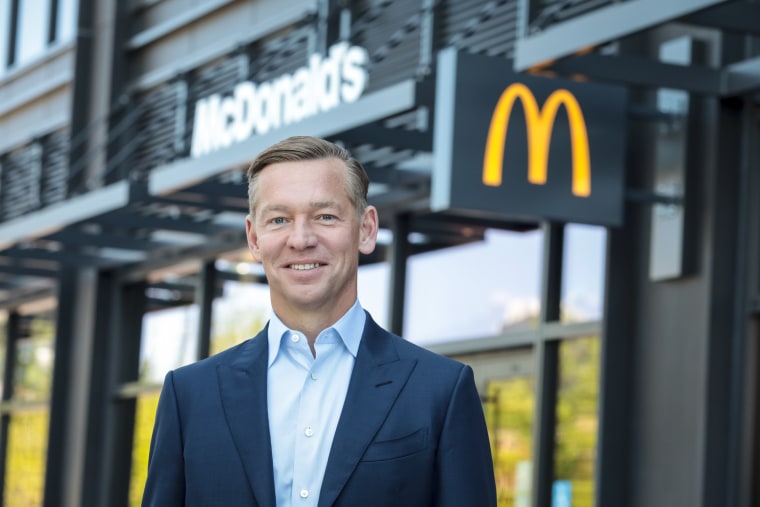 McDonald's is facing additional pressure over CEO Chris Kempczinski's text message exchange with Mayor Lori Lightfoot, in which he appeared to blame the deaths of two Chicago children fatally shot earlier this year on their parents.
A coalition of community groups that protested outside the company's headquarters last week said they sent an open letter to the Chicago-based fast-food giant's board demanding Kempczinski's removal, joining a similar call from U.S. Rep. Bobby Rush.
"It's clear to us that Chris Kempczinski can't fix McDonald's problems with race because Chris Kempczinski is himself part of the problem," the 17 community groups wrote in the letter dated Thursday.
The groups said they want the company to create a $200 million fund to make investments in Chicago communities, commit to a nationwide minimum wage of $15 per hour and set up a committee with representatives from the company, its workers and government to improve wages and working conditions.
In the texts, sent after Kempczinski and Lightfoot met at McDonald's Chicago headquarters in April, Kempczinski referred to recent shootings that killed two children: 7-year-old Jaslyn Adams, shot in the drive-thru lane at a McDonald's in the Homan Square neighborhood, and 13-year-old Adam Toledo, shot by a Chicago police officer during a foot chase in Little Village.
"With both, the parents failed those kids which I know is something you can't say. Even harder to fix," Kempczinski wrote in the message.
On Thursday, about 20 people from groups including the Fight for $15, Little Village Community Council and SEIU Healthcare held a protest at the McDonald's where Jaslyn was shot, starting on the sidewalk before moving to the drive-thru lane and the restaurant's entrance, chanting "Whose McDonald's? Our McDonald's" and "Hey McDonald's, you can't hide, we can see your racist side."
Click here to read more.
SOURCE: Bakersfield, Chicago Tribune