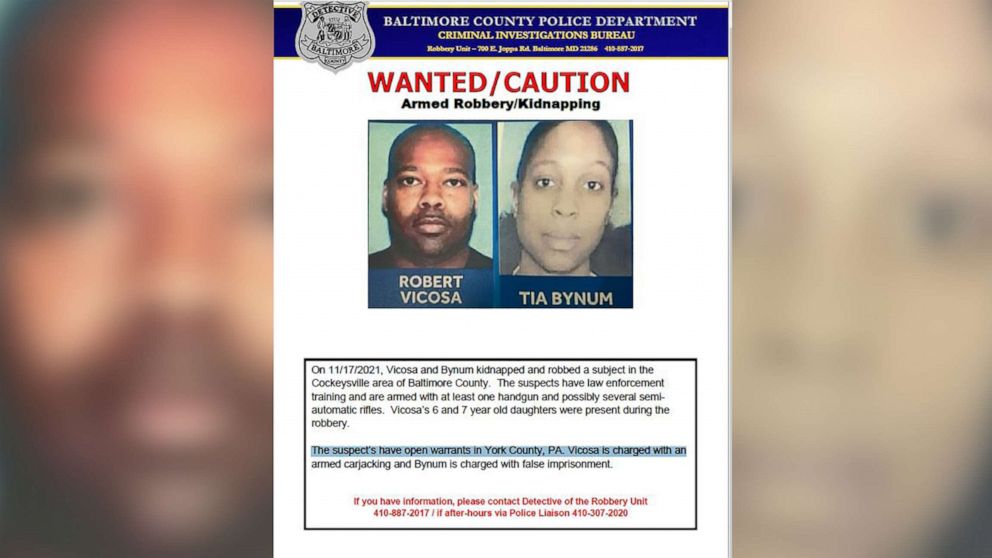 Four people were pronounced dead following an attempted traffic stop in Maryland, as a manhunt was underway in the state for two former police officers who were considered armed and dangerous. On Thursday night, police confirmed two of the deceased were the former officers.
Three passengers were pronounced dead at the scene in Smithsburg late Thursday afternoon, including a female driver, an adult man and one child, according to Maryland State Police.
A fourth passenger, another child, was medevacked to a local hospital and pronounced dead, police said.
All four appeared to have been shot, Elena Russo, a spokesperson for Maryland State Police, said during a press briefing. The car had run off the road and hit a fence line, she said.
Maryland State Police said in a statement later Thursday that they were able to identify the deceased individuals.
The woman in the front seat of the car was Tia Bynum, 35, a former Baltimore County police officer. She was pronounced dead on the scene by emergency medical service personnel. "Bynum was wanted by the Baltimore County Police Department and considered armed and dangerous," they said. The man in the back seat was identified as Robert Vicosa, 41, also a former police officer. He was also pronounced dead on the scene and was previously wanted for committing multiple felony crimes in Pennsylvania and Maryland.
"Police believe the two juveniles located in the back seat were Vicosa's children," the police department said. One was pronounced dead at the scene and the other was transported by police to Meritus Medical Center in Hagerstown, where she was also pronounced dead.
Click here to read more.
SOURCE: ABC News, Emily Shapiro and Meredith Deliso