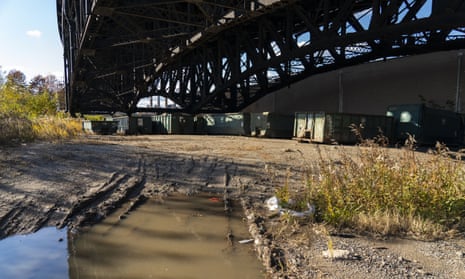 A half-century American fixation on the whereabouts of the remains of International Brotherhood of Teamsters boss Jimmy Hoffa has finally led investigators to a landfill in New Jersey.
The area of suspicion is on a Little League diamond on the landfill beneath the General Pulaski Skyway, a three-mile bridge that arches over a cinematically criminal evocative expanse of industrial wasteland and marshes west of Manhattan – one that once featured in marketing for the Sopranos TV show.
The FBI confirmed that its ongoing search for the Teamster boss, who disappeared in July 1975 after he showed up for a meeting with two mob bosses in Michigan, had begun anew after a March 2020 deathbed tip from landfill worker Frank Cappola who had told a friend that his father confessed he'd been ordered by unidentified men to bury Hoffa's body in a steel drum.
A spokesperson for the FBI told the New York Times that agents from the bureau's Detroit and Newark offices had carried out a site visit on the Jersey City side of the bridge late last month.
The location of the search is freighted with cinematic references: the opening sequences of The Sopranos depicts a car ride through the area, including shots of the Pulasky; in 2019, Martin Scorsese's The Irishman, starring Robert De Niro and Al Pacino, offered a fictionalized account of Hoffa's disappearance from the perspective of Mafia hitman Frank Sheeran.
Click here to read more.
SOURCE: The Guardian, Edward Helmore