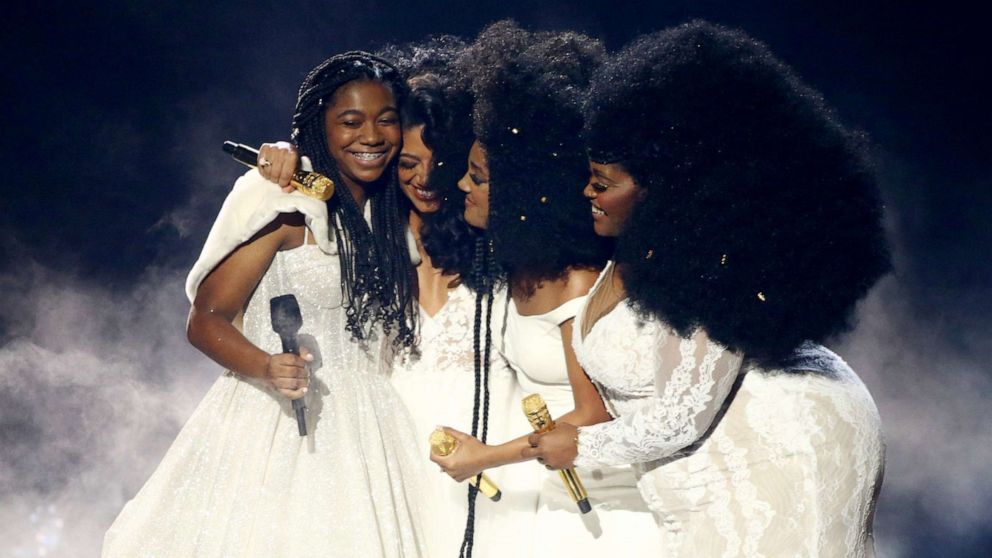 Faith Fennidy is a change-maker, advocate and the teen inspiration behind Mickey Guyton's "Love My Hair."
In 2018, Faith, who was 11 at the time, said she was told to leave a Louisiana private school because she was wearing braided hair extensions. At the time, the school had a policy against students wearing hair that isn't natural.
"When I went to school that day, and they told me that I couldn't wear my braids there, it was a heartbreaking experience," Faith told "GMA." "Especially something that I had never expected from a school that I had been going to for at least a couple of years … to tell me that it was an issue, it was a problem."
Faith's brother, Steven Fennidy, recorded a video of Faith in tears in the school office after the incident and posted the video on social media, where it went viral, garnering national attention and outrage over the school's rule. The school later rescinded its policy following the backlash from this incident.
Faith, now 14, decided not to return to the school, opting instead to start fresh at a new school, according to her family, and she said she's grown to love it.
She also said she decided to turn her painful experience into a positive platform for change by working with her community on advocacy to push for her home state of Louisiana to pass the CROWN Act. The legislation prohibits discrimination based on hairstyle and hair texture by extending protection for both categories under the Fair Employment and Housing Act and the Education Code.
The law has been passed in 14 states so far: California, New York, New Jersey, Virginia, Colorado, Washington, Maryland, Connecticut, Delaware, New Mexico, Nebraska, Nevada, Oregon and Illinois. Sen. Cory Booker and former Rep. Cedric Richmond, a Democrat who represented Louisiana's 2nd District and is now a senior adviser to President Joe Biden, introduced the bill on a federal level.
Click here to read more.
SOURCE: GMA, Jacqueline Laurean Yates