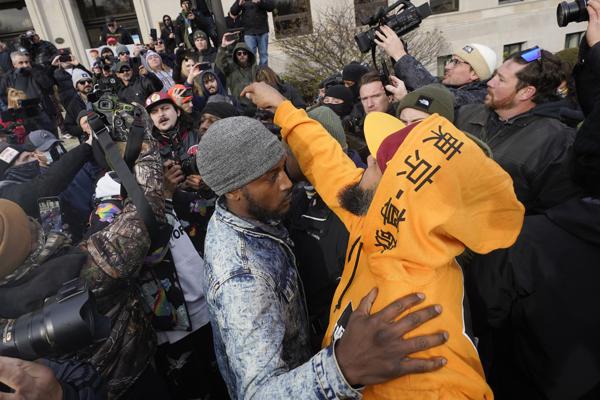 Kyle Rittenhouse's acquittal only confirmed the belief that has been longstanding in the minds of Black Americans and that is that there are two justice systems: one for white people and another for black people.
Although Rittenhouse is white and the two men he killed and the one wounded are white, the case has been linked from the beginning to issuesof race and teh criminal justice system.
Activists have previously pointed to differences in how police handled Rittenhouse's case and that of Jacob Blake, the Black man who was shot by a white Kenosha police officer in August 2020, sparking protests in the city that became destructive and violent.
"You can really smell and see the underlying systemic racism that's in the judicial system and the policing system," said Justin Blake, Jacob Blake's uncle, following the verdict.
Black activists in Kenosha said the verdict showed they need to continue pushing for change in their city and state — in local elections, in education and in changes to policing.
"You cannot tell me that these institutions are not sick," said Kyle Johnson, an organizer with Black Leaders Organizing Communities. "You cannot tell me that these institutions are not tainted with racism."
Ben Crump, a civil rights lawyer who has represented the families of Jacob Blake, Trayvon Martin, and Ahmaud Arbery, said, "From the outset, this case has pulled back the curtain on the profound cracks in our justice system — from the deep bias routinely and unabashedly displayed by the judge, to the apathy of officers who witnessed Rittenhouse's crimes and did nothing."
Says Frankie Cook of Kenosha, "Rittenhouse wouldn't have been acquitted if he was a Black man . . . I'd like to see them handle his case — the case of a Black kid — like they handled this one. I want to see that."
– Ella Breedlove