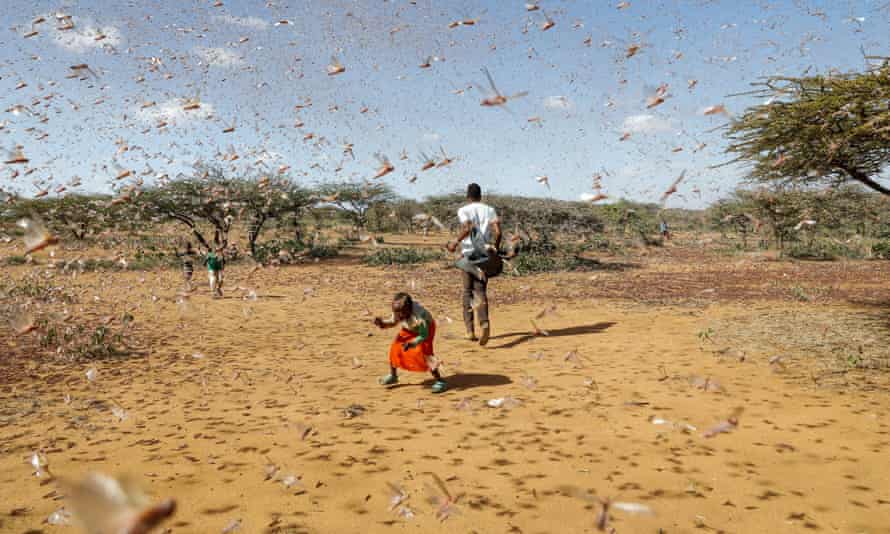 More than 2.1 million people in Kenya are facing starvation following two years of poor rainfall, the COVID-19 pandemic and an outbreak of desert locusts, according to the latest report by the country's National Drought Management Authority (NDMA).
Access to food and water is an urgent concern for both humans and livestock amid the progressive impact of climate change.
Many open water sources including rivers, water pans, and dams have dried up across pastoral and agricultural livelihood zones, and other open water sources are at 20 to 40% of capacity.
Eunice Aroo and her five year-old daughter have had to travel five kilometres (3.1 miles) to Kapua village centre in Turkana County to receive food donations from the Red Cross.
The central square is full of famished villagers eying a single truck loaded with multiple plastic cans of cooking oil, maize flour and other assorted cooking items.
For her family of five, the rations can be eked out for six days.
She will attempt to supplement them with wild fruits from the forest.
Unpredictable weather patterns have made it difficult for humanitarian aid organizations to help.
They say that nowadays it's raining when it's not supposed to and dry when not expected, meaning they no longer know when to distribute seeds, pasture and food.
"It's extremely hot, it's extremely dry, there is no water, there is no food, there is no pasture for their animals, so this makes it difficult for them as a community," says Annette Msabeni, Deputy Secretary General, Red Cross Kenya.
Msabeni fears that relief food distribution is a short term measure and more needs to be done to build resilience in the wake of climate change.
According to Professor Shem Wandiga of the Climate Change Institute of Kenya, developing countries are suffering from the actions of developed countries.
"95% of the greenhouse gases have been contributed by the developed countries, and now China, India and Brazil are coming in. Okay? Now these contributions have the impact of giving us drought and the reality of drought is there," says Wandiga.
He says that, to survive, people will have to change the crops they grow and plant seeds that have been "modified by the agriculturalists to fit the present condition due to climate change".
The NDMA report said with the coming October-December rainy season forecast to be below normal, the situation was only going to get worse.
By the end of 2021 up to 2.4 million people could be affected, it reported.
SOURCE: The Associated Press