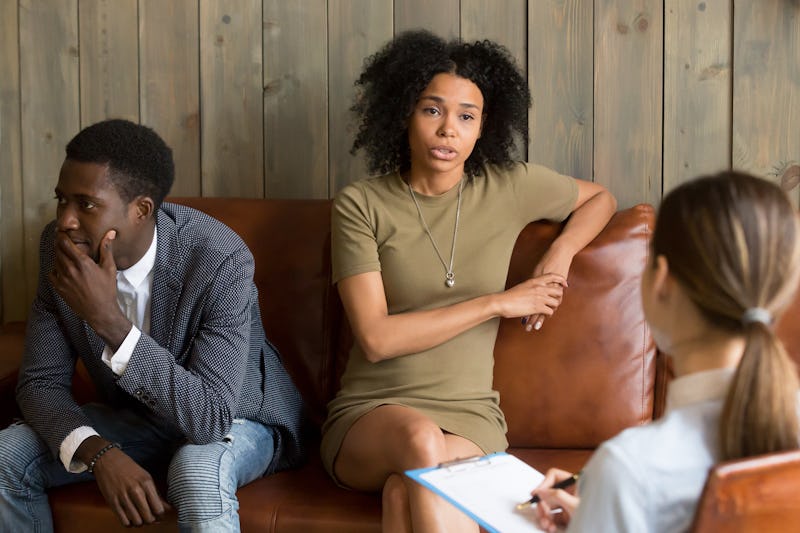 She looked smoking hot and she knew it. Blonde. Curvaceous. Suede stilettos with a way-too-short leather skirt. Beckoning green eyes and a killer smile to match. She wanted everyone's attention in the room and boy, she got it (including mine).
She floated through the crowd, giggling with one group and then another. Finally, she sauntered over toward a group of men—one of whom was my husband. Before she walked away, she patted his arm with her graceful, manicured hand—maybe a little too much.
Really?
She probably meant nothing by it, but after the party my husband and I talked about the situation, laughed a little and moved on. Although this happened years ago, I'm glad we chose to talk about it and reassure each other, rather than pretend like it didn't happen. Recognizing and talking about things (or people) that might sabotage our marriage helps us protect it.
I wish we'd done that even more.
After 31 years of marriage, I've learned a lot of things not to do, both by observing others and by making a lot of mistakes, myself. And I'm still learning. With each anniversary, my appreciation grows for our beautiful, quirky and sometimes less-than-perfect relationship. I want to guard what we have and work to make it better.
I'm sure you do, too.
While nobody sets out to sabotage their marriage, it's not that hard to do. And often, we may not realize that we're doing any damage at all—until it's too late. Here are ten ways to sabotage your marriage that I've learned to avoid.
1. Bottling up Your Feelings.
Sometimes, I tend to bury my feelings. But I've learned it's best to talk about the flirty blonde or whatever troubles me now, rather than exploding about it months from now. Failing to communicate creates distance between you and your spouse. It causes a lot of misunderstandings and arguments. Eventually, it can cause distance and even bitterness. These feelings are hard to overcome.
The Bible says, "Don't let the sun go down while you are still angry" (Ephesians 4:26 NLT). In other words, this means to go ahead and talk it out. Today. Bottling up your feelings can sabotage your marriage.
2. Never Dating, Anymore.
I remember the days when we were knee-deep in  children, homework, PTA and sports practices—romance didn't seem very important. But this attitude doesn't make husbands or wives feel very special. We all want to be desired, pursued and valued by our spouse.
Romance is an essential part of marriage, yet if my husband and I aren't careful, it can get lost in the busyness of life. Maybe you can relate. Sending love notes, scheduling date nights and anniversary getaways are like making deposits into "the bank" of your relationship. But failing to romance your spouse shortchanges your marriage.
3. Never Admitting You're Wrong.
Apologizing is a sign of weakness! If you give in—even an inch—your spouse will expect a mile. Unfortunately, I used to think like this. When we were first married, I had trouble admitting I was wrong and even more trouble apologizing. This caused a lot of arguments and eventually, it put distance between us.
Finally, I've learned that being right is highly overrated. It's not nearly as important as being patient, loving, or kind. Having to be right can tear your relationship apart. It keeps you focused on yourself. But the more you give up your right to be right, the freer you are to love and to be loved. So, go ahead and apologize when you're wrong, even if it feels awkward. A heartfelt apology endears you to your spouse, like nothing else can. The Bible gives us this wise advice: "So then, make it your top priority to live a life of peace with harmony in your relationships, eagerly seeking to strengthen and encourage one another" (Romans 14:19 TPT).
4. Hiding Your Shopping Bags.
Use several credit cards to mask a large purchase. Go on a spending binge! Keep financial secrets. Seriously? Financial problems ruin marriages every day. Here's the truth: your marriage is far more valuable than anything you can buy.
"Financial cheating" can be the beginning of the end of your marriage. Have a serious talk about finances with your spouse. Make some ground rules. If you've been lying about money, admit it and apologize before it's too late. Financial honesty protects your marriage, but financial infidelity will destroy it.
5. Being a Little Flirty with Others.
After all, it's only harmless flirtation—you don't really mean it! Be oh so careful. Being flirty can lead other people on. It can cause unwanted advances. It can lead to temptation. And it can make the spouses of those you flirt with, seethe with rage.
I've witnessed how devastating "harmless" flirtation can be among couples. Acting, talking or thinking like you are single (even in small ways) can cause a lot of hurt and insecurity. Go ahead and flirt—but only with your spouse. Make him or her the sole object of your affection.
Click here to read more.
SOURCE: Crosswalk – May Patterson