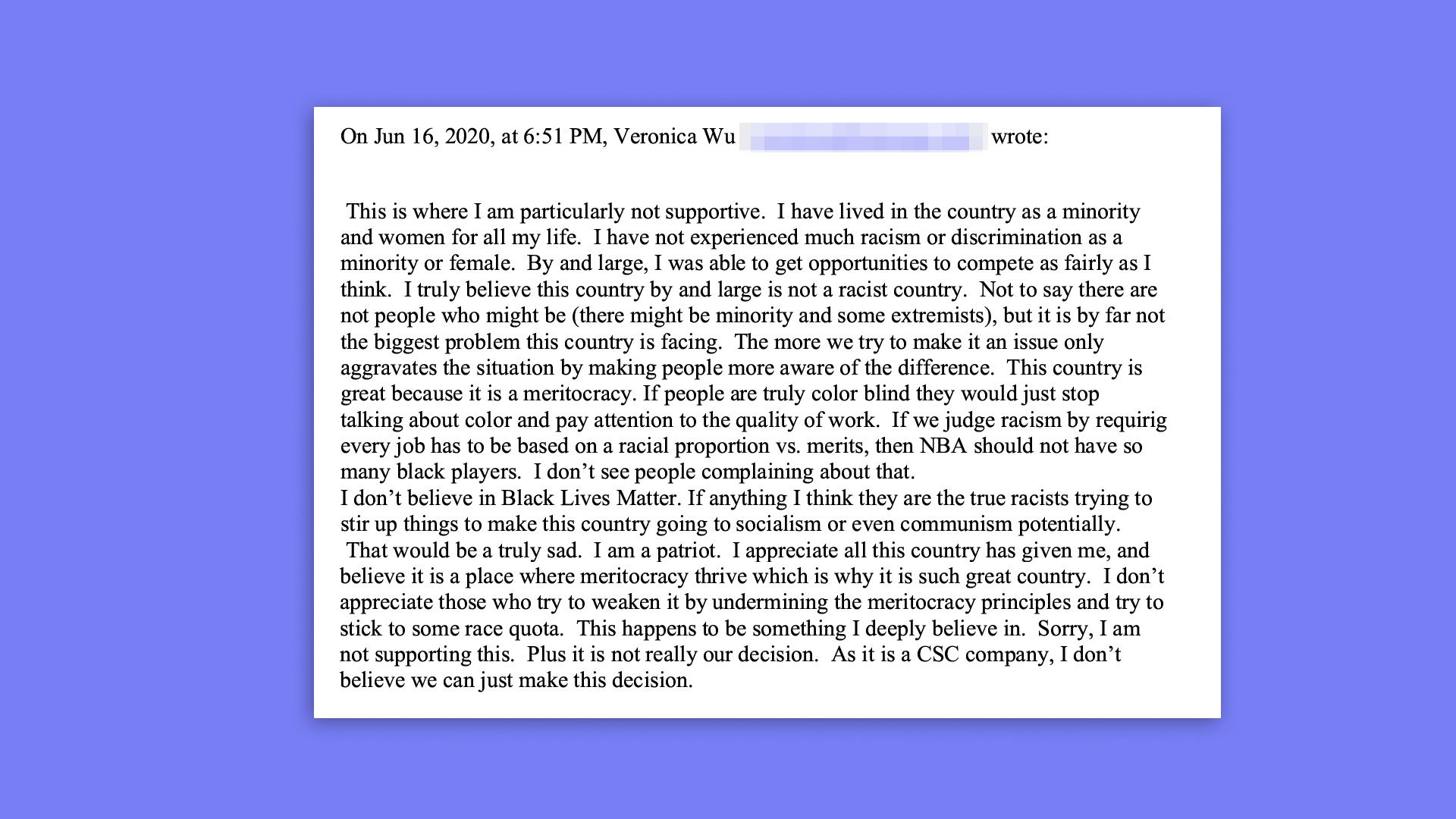 A notable venture capitalist and board member at the public company behind iconic brands like The North Face and Timberland was dismissive of racism in the U.S. and called Black Lives Matter "the true racists," according to emails obtained by Axios.
Details: Veronica Wu was a co-lead on a fund that it once described as the largest pool of money dedicated to seed startups. She's also on the board of VF Corporation, one of the world's biggest apparel companies.
A spokesperson for VF Corp. declined to comment and would not comment on Wu's behalf. Wu did not respond to emails.
Background: Wu was elected to VF Corp.'s board in 2019.
At the time, she was a managing partner at Hone Capital, a U.S. venture arm of China Science and Merchants Investment Management Group (also known as CSC Group).
Wu was previously a co-lead on a CSC Upshot fund, created in 2015 to invest in companies on fundraising platform AngelList. At the time, the companies said it was the biggest-ever dedicated to seed stage funding.
In June 2020, an office manager at Hone Capital notified Wu that the firm would honor Juneteenth as a company holiday, according to email exchanges reviewed by Axios.
Wu responded that she didn't know about the holiday, which commemorates when enslaved Black people in Galveston, Texas, learned of their emancipation.
After the office manager explained that — and noted other companies were honoring the day because of the country's renewed focus on racism in the wake of George Floyd's murder — Wu said she was "particularly not supportive."
"I don't believe in Black Lives Matter. If anything I think they are the true racists trying to stir up things to make this country going [sic] to socialism or even communism potentially," Wu wrote in part.
Wu also said because the company was owned by CSC Group, the decision about making the day a company holiday wasn't theirs to make.
Click here to read more.
SOURCE: Axios, Courtenay Brown