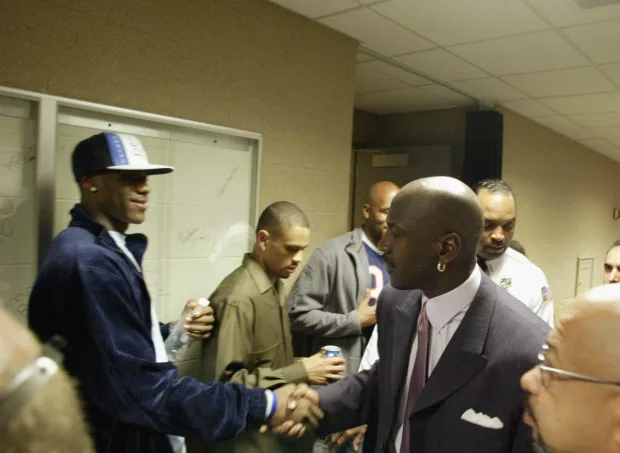 Michael Jordan and LeBron James will forever be etched in history. The two are arguably the best ever to play this game. Jordan dominated the 80s and the 90s, whereas LeBron James has been doing the same during the 2000s, 2010s, and now aiming to do so in the 2020s.
Between them, the two players have won 10 NBA Championships. In fact, Between 1990 to 2020, Jordan and LeBron James were involved in half of the NBA Finals, with Jordan going to 6, and LeBron going to 10. The two have dominated the NBA landscape throughout their respective careers.
LeBron grew up watching and idolizing LeBron James. LeBron was born just a few months after Michael Jordan made his debut in the NBA. By the time LeBron James was 6, Jordan won his first NBA championship.
And by the time Jordan was ready to walk away from the game for good, LeBron was a plucky 17-year-old who was making waves throughout the country as the best high school basketball player, and a future superstar in the making.
But just a few months before Jordan retired and LeBron declared himself for the NBA Draft in 2003, LeBron and Jordan crossed paths. As described by Grant Wahl of Sports Illustrated, their meeting was actually quite friendly and cordial.
The two met when Jordan and the Wizards came to Cleveland in 2003 to play the Cavaliers. Jordan arrived sporting his signature suits. LeBron was in the hallways and greeted Jordan very well. Despite knowing each other on a casual level, both greeted each other like they had known each other for a long time.
Jordan asked LeBron how his mother was and where she was, to which he gave a quick response. Later, Jordan and LeBron were having a conversation about basketball, when Jordan gave LeBron some valuable advice from his own experience and arsenal of moves on the court.
He told LeBron to use one dribble, and then pull up for a shot, telling him that he wanted to see LeBron use that move in the near future. Thrilled at meeting his hero, LeBron responded by saying "that's my guy".
Click here to read more.
SOURCE: Fadeaway World, Aaditya Krishnamurthy