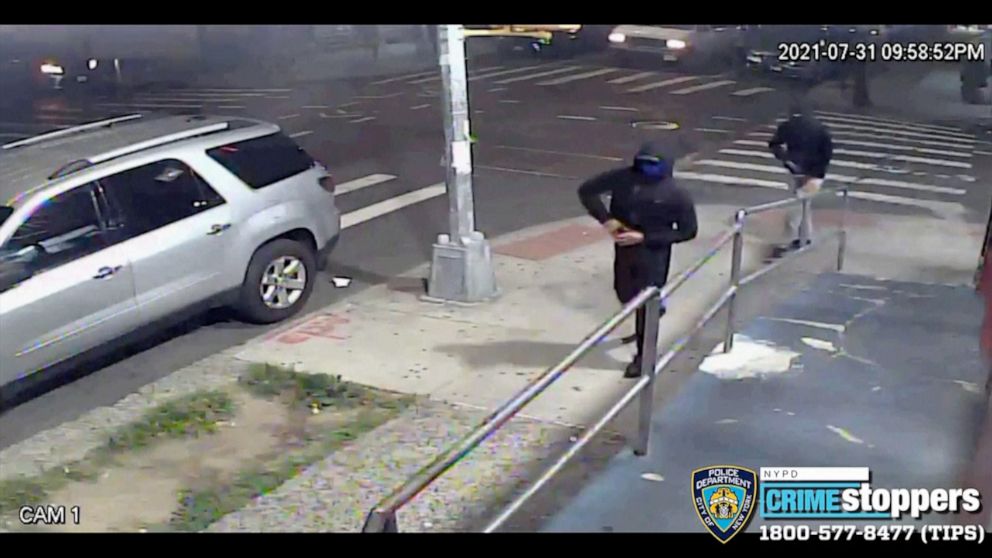 A pair of masked men unleashed a fusillade of gunfire on a crowded street in a New York City neighborhood Saturday night, wounding 10 people before getting on mopeds and speeding away, police said.
New York Police Department investigators said the episode appeared to be tied to gang violence, but that seven of the shooting victims were innocent bystanders, including a 72-year-old man.
"This was, as I can most accurately describe it, a brazen, coordinated attack," NYPD Chief of Detectives James Essig said at a news conference on Sunday.
No arrests have been made.
The shooting occurred about 10:38 p.m. outside a barbershop and a restaurant in the city's Queens borough.
The NYPD released a chilling surveillance video showing two men wearing masks and hooded sweatshirts walking east on 37th Avenue near 97th Street in Corona, Queens, both with their arms extended and firing handguns.
The video shows the pair of gunmen being trailed on the sidewalk by two other masked men, also wearing hooded sweatshirts, driving mopeds. Following the shooting, the gunmen calmly climbed onto the back of the mopeds and sped away.
Click here to read more.
SOURCE: ABC News, Aaron Katersky, Will McDuffie, and Bill Hutchinson