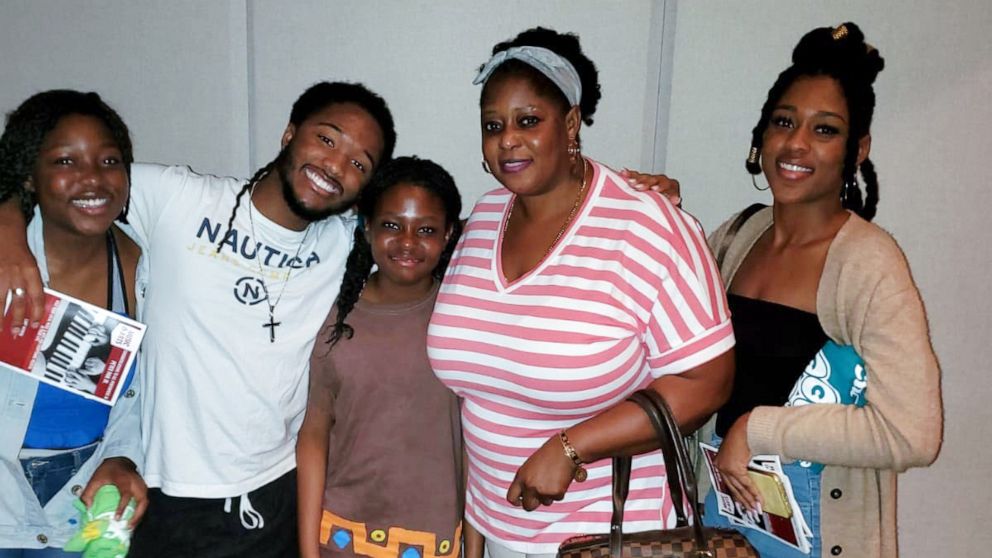 Cindy Dawkins was celebrating her 50th birthday in Orlando earlier this month when family members said she began to feel tired and short of breath.
Just a week later, Dawkins, of Boynton Beach, Florida, passed away due to complications from COVID-19, according to her family.
She left behind four children, ages 12 to 24, who are now speaking out amid their grief to urge people to take the coronavirus pandemic seriously and get vaccinated.
Dawkins, who worked at a local restaurant, did not get a COVID-19 vaccine, according to her son, 20-year-old Tre Burrows.
"I think she wasn't sure about the vaccine, and we followed the rules and kept our masks on," Burrows told "Good Morning America." "Now seeing how it happened and how quickly it happened, it definitely changed our perspective. Getting a vaccine helps more than any damage it could do."
Just 59.5% of Americans ages 12 and up are fully vaccinated against COVID-19, according to data from the Centers for Disease Control and Prevention. Public health officials have strongly urged people to get vaccinated to help prevent serious complications from COVID-19, especially as the more contagious delta variant has spread quickly.
More than 623,000 Americans have died from COVID-19, according to data from the Center for Systems Science and Engineering at Johns Hopkins University.
Dawkins, a Bahamas native, was supposed to sign final paperwork in the process to become a U.S. citizen on the day that she was taken to the hospital by ambulance. Just two days later, on Aug. 7, Burrows and his siblings received an early morning phone call from the hospital to come as soon as they could.
By the time they made it there, less than 30 minutes later, Dawkins had died. The family has not yet received a death certificate but were told that she died after contracting COVID-19 pneumonia, according to Burrows.
"It felt like a dream," he said of learning his mother had died. "It honestly did. It didn't even feel real."
Click here to read more.
SOURCE: Good Morning America, Katie Kindelan