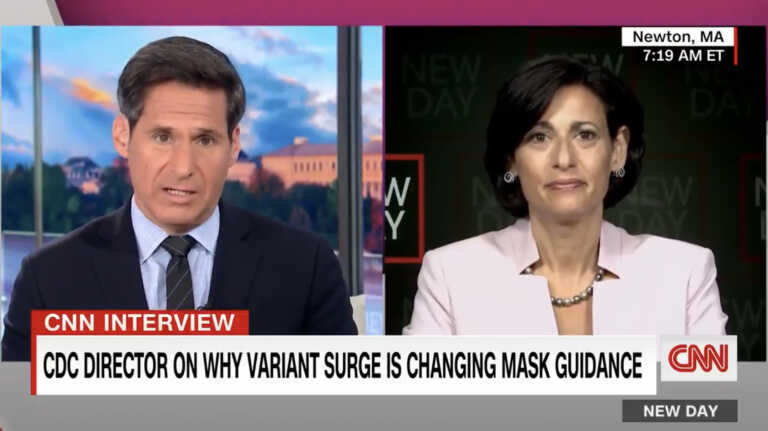 In the wake of the latest mask guidance from the U.S. Centers for Disease Control and Prevention, even CNN is pushing back.
CDC Director Dr. Rochelle Walensky appeared on the network Wednesday morning, when "New Day" co-host John Berman pressed her for any sort of medical data to back up her agency's flip-flop on masks.
His question came after the CDC announced, amid the surge in so-called "Delta variant" COVID-19 cases, that both vaccinated and unvaccinated Americans should, once again, start wearing masks indoors in areas of the country with "high" or "substantial" transmission of the virus.
Those two categories account for a great deal of the nation.
.@CDCDirector Dr. Rochelle Walensky on the new mask guidance: "With prior variances, when people had these rare breakthrough infections, we didn't see the capacity of them to spread the virus to others. But with the Delta variant … you can actually now pass it to somebody else" pic.twitter.com/K1qvfjNUrX

— New Day (@NewDay) July 28, 2021
This week's announcement marks a complete 180-degree turn from what the CDC stated just two months ago, when it said vaccinated people could largely do away with masks in nearly all settings.
Walensky, who, with a gulp, readily admitted the "vast majority" of new cases are coming from unvaccinated people, was met with perhaps a bit more pushback than she anticipated from CNN.
"Predominately, this is something coming from unvaccinated people … to unvaccinated people, correct?" Berman asked Walensky, who offered an affirmative response. "So you can understand the frustration in those of us who are vaccinated saying, 'Why the [expletive] do I have to pay the price for this?'"
Click here to read more.
SOURCE: Faithwire, Tré Goins-Phillips