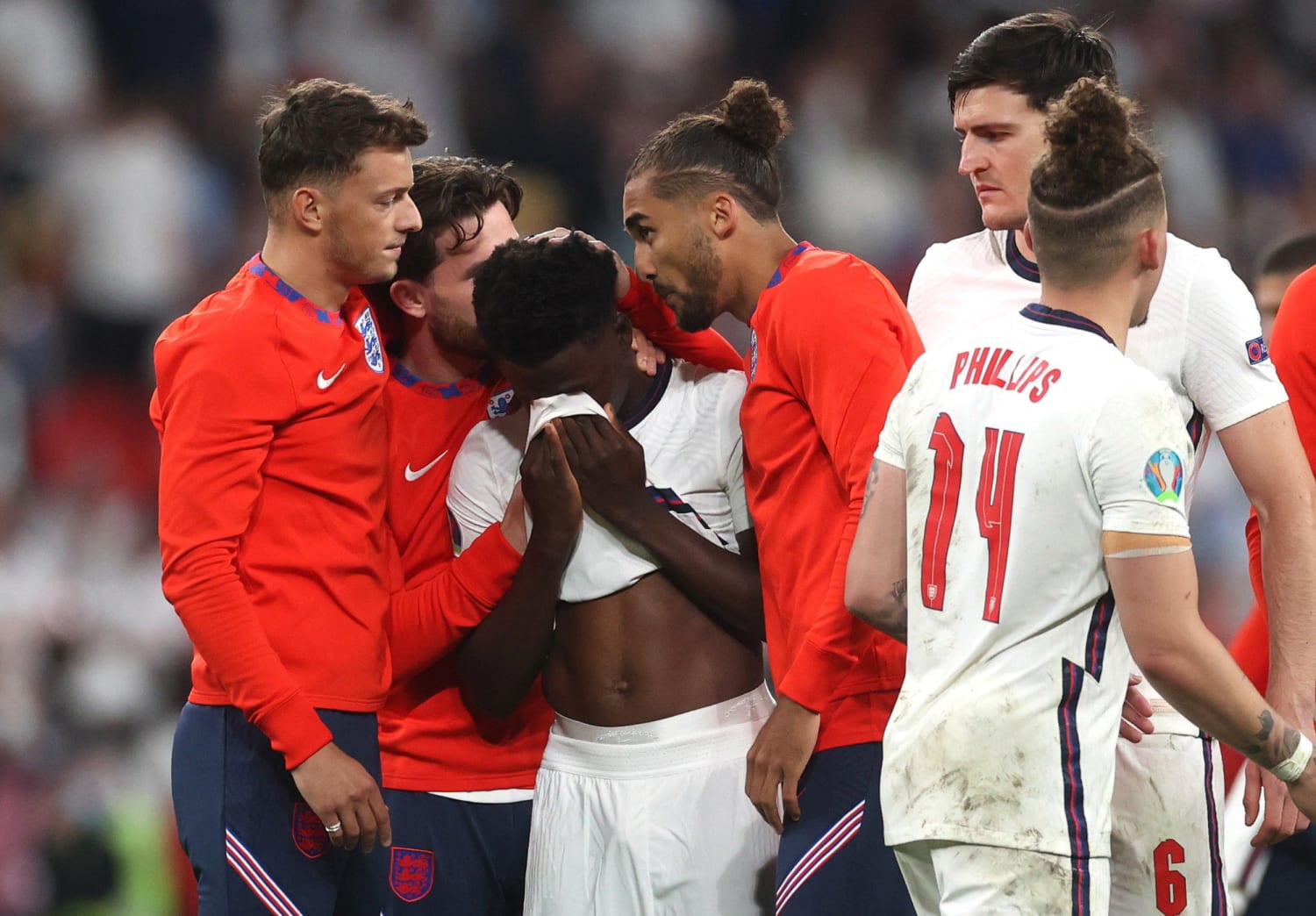 When Bukayo Saka, Marcus Rashford and Jadon Sancho missed their penalty kicks for England in the Euro 2020 soccer final on Sunday, many fans sensed a grim inevitability about what would happen next.
These three gifted young Black men were among those who stepped up during a moment of huge pressure — England's first major final in 55 years — only to have their social media accounts flooded with racist abuse after the team's defeat to Italy at London's Wembley Stadium.
The city's Metropolitan Police have opened an investigation into the abuse, which was condemned by England's Football Association, Prince William and Prime Minister Boris Johnson, who said the "team deserve to be lauded as heroes, not racially abused."
Widespread revulsion dominated trending topics Monday, including the phrase "no to racism," and the players' feeds were inundated with positive messages that soon drowned out the slurs.
But for many fans it was a depressing coda to a tournament in which this modern, multicultural English team played great soccer while displaying a social conscience. Some commentators believe the racist abuse has been fueled in part by an ugly culture war that's surrounded the players — one that critics say Johnson's Conservative government and others on the right have stoked.
"When we get racist abuse after a football match at the end of a tournament, I expect it," the former England player Gary Neville said Monday on NBC News' British partner Sky News, where he now works as a leading sports commentator. "Because it exists, and it's actually promoted by the prime minister, I knew as soon as Marcus Rashford, Jadon Sancho and Bukayo Saka missed last night, I knew we would be waking up this morning to stories of racist abuse."
Neville questioned how Johnson can condemn racism when, in his previous job as a newspaper columnist, he described citizens of the Commonwealth — which includes former British colonies in Africa, Asia and the Caribbean — as "piccaninnies" with "watermelon smiles."
Click here to read more.
SOURCE: NBC News, Alexander Smith