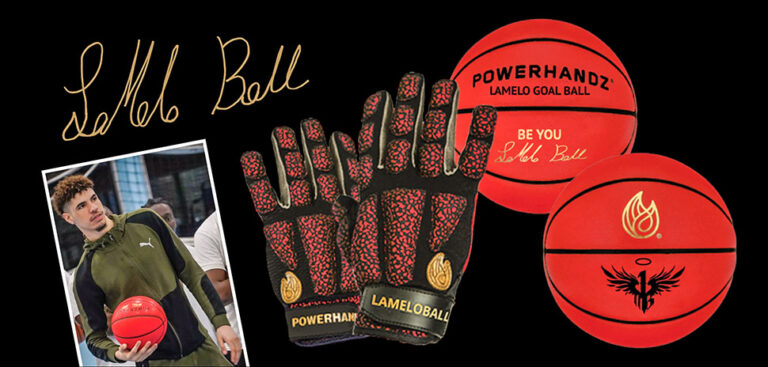 Spike Lee once watched Michael Jordan play and yelled, "It's gotta be the shoes!" When NBA Rookie of the Year LaMelo Ball drives downcourt, don't be surprised if you hear "It's gotta be the gloves!"
Shooting baskets is only half the game. Just as important? Ball handling—moving and dribbling with total mastery and control. In 2019, the Charlotte Hornets star player improved his "handles" with the help of weighted, anti-grip training gloves made by Powerhandz. Impressed, Ball looked into Powerhandz to see how he could be a part of the business. Now he's all in—with the startup, its new merger, and the company's Power to Give foundation.
Rookie of the Year sets records
Maybe it's his talent, genes, and commitment, not just the gloves. After all, he once scored 92 points in a high school game. But Ball did things in the NBA this season that make you wonder. Besides winning rookie of the year, he became the only NBA player in the last 60 years to lead all rookies in total points, rebounds, assists, and steals at the All-Star break.
So his partnership with Powerhandz is a huge win for the Frisco-based company. Ball will serve it as a general partner and brand ambassador. The company also announced a merger with the newly formed PH Innovation Holdings to help it scale its business and raise more capital.
Ball will be a board member of PH Innovation Holdings, as well as a board member of the company's foundation, The Power to Give.
"Adding young creative and rare talent like LaMelo as a general partner gives us a chance to innovate and deliver strategies that reconnect us to male and female athletes, globally," said Danyel Surrency Jones, co-founder and CEO of Powerhandz, in a statement.
He liked the tech so much, he joined the company
In 2019, Ball had no prior connection to Powerhandz. Then he started training with their patented anti-grip weighted gloves. The gloves are designed to strengthen hand muscles while actually making it more difficult to grip a ball. This forces the hands to develop strength and dexterity so that when the gloves comes off, it feels easier to grip and handle the ball—and in LaMelo's case, make it do record-setting things.
Click here to read more.
SOURCE: Dallas Innovates, David Seeley