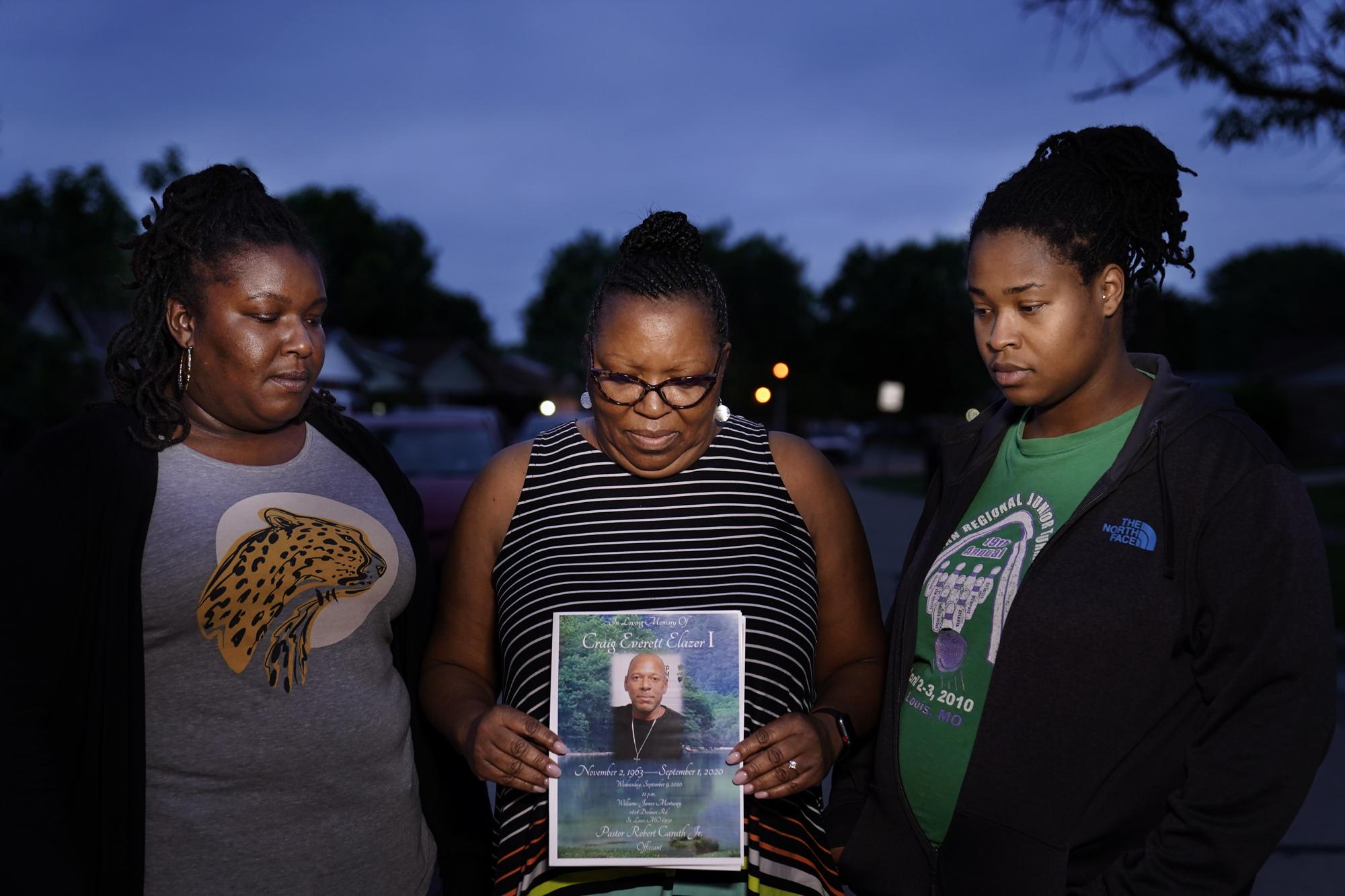 She screamed and cried, banged on the dashboard, begging her husband to drive faster, faster, faster toward her brother lying face-down on his bedroom floor.
Craig Elazer had struggled all his life with anxiety so bad his whole body would shake. But because he was Black, he was seen as unruly, she said, not as a person who needed help. Elazer, 56, had started taking drugs to numb his nerves before he was old enough to drive a car.
Now his sister, Michelle Branch, was speeding toward his apartment in an impoverished, predominantly Black neighborhood in north St. Louis. His family had dreaded the day he would die of an overdose for so long that his mother had paid for his funeral in monthly installments.
It was September, and as the COVID-19 pandemic intensified America's opioid addiction crisis in nearly every corner of the country, many Black neighborhoods like this one suffered most acutely. The portrait of the opioid epidemic has long been painted as a rural white affliction, but the demographics have been shifting for years as deaths surged among Black Americans. The pandemic hastened the trend by further flooding the streets with fentanyl, a potent synthetic opioid, in communities with scant resources to deal with addiction.
In the city of St. Louis, deaths among Black people increased last year at three times the rate of white people, skyrocketing more than 33%. Black men in Missouri are now four times more likely than a white person to die of an overdose.
Dr. Kanika Turner, a local physician leading the charge to contain the crisis, describes the soaring death rate as a civil rights issue as pressing and profound as any other. The communities now being hit hardest are those already devastated by the war on drugs that demonized Black drug users, tore families apart and hollowed out neighborhoods by sending Black men to prison instead of treatment, she said. Even today, Black people in the United States are more likely to be in jail for drug crimes and less likely to access treatment.
Last year, George Floyd died in Minneapolis under a police officer's knee. He had fentanyl in his system and some of the officer's defenders tried to blame the drugs for his death. The world exploded in rage.
"That incident on top of the pandemic rocked the boat and shook all of us. It ripped the Band-Aid off a wound that has always been there," said Turner, who grew up in the same neighborhoods where Elazer lived, beset by addiction, poverty and one of the highest murder rates in America. "We're undoing history of damage, history of trauma, history of racism."
– VIDEO: Overdoses soar for St. Louis Black men amid COVID
Pastors are now marching into the city jail to train inmates how to survive once they get outside. They host mobile treatment centers in their parking lots. They make an appeal to their congregations: Do not numb the pain of violence and racism with drugs. Don't let the next funeral be for you.
Branch for decades begged God to deliver her brother from addiction. She would lie awake at night imagining him dead in a ditch or dark alley, with nothing in the world but the clothes on his back.
She was hysterical by the time she arrived at his apartment.
The cousin who found him said he was sorry; Elazer had been alone and dead for hours. They tried to convince her not to go inside, but she wanted to see him.
As Branch looked down at his body, she felt calm come over her.
"Society failed him," she said. "And I had a sense that he'd finally been set free."
____
When the Rev. Burton Barr drives to the city jail, he passes a corner store with a sign painted on its side: "Drugs … the new slavery!"
"That's true," Barr said.
He calls himself "the hoodlum preacher" and he goes to the jail twice a week to try to save people from the addiction that consumed his life for 22 years.
He was swept up when heroin inundated Black communities in the 1960s and transitioned to cocaine in the 1980s. The face of addiction then was inner-city Black people like him, and they were criminalized. Barr once tried to tally the number of times he went to jail, and he stopped counting at 30.
"It was not a war on drugs. It was a war on us," said Barr, in recovery since 1991. "It devastated our communities."
LISTEN
– AUDIO: St. Louis grapples with rising drug overdose deaths in Black communities
Harsh sentencing laws passed in the 1980s were far more brutal on crack cocaine users, who were more likely to be Black, than they were for powder cocaine users, who were more likely to be white. A person convicted of possessing five grams of crack got the same sentence as someone with 100 times more powder. Black men went to prison by the tens of thousands.
Addiction was not widely accepted as a public health crisis — with a focus on treatment instead of incarceration — until recent years, only once it started killing white teens in the suburbs, Barr said.
The timeline of the current opioid epidemic begins in the late 1990s, and unfolds in three waves. The first arrived when pharmaceutical companies campaigned to expand prescribing painkillers and addiction spread through struggling, predominantly-white communities like Appalachia.
The second came when the government cracked down on prescriptions and many turned to heroin; then the third when fentanyl, 50 times more potent than heroin, was laced into opioids sold on the street.
Some researchers believe the nation is entering a fourth wave. The drug supply is so messy and unpredictable that people overdosing have multiple drugs in their system: dangerous cocktails of fentanyl, a depressant, and stimulants like cocaine and methamphetamine.
A lot of illicit fentanyl is manufactured in Wuhan, China, where COVID-19 was first unleashed. Lockdowns initially disrupted the supply, said Vanda Felbab-Brown, a Brookings Institute fellow who studies trafficking.
In St. Louis, the drug trade became even more chaotic: People who used to know where their drugs were coming from no longer did. Fentanyl for a time was hard to find, and some turned to less-potent heroin.
But the Chinese laboratories rebounded and resumed shipping the chemicals to Mexico, where cartels process them, Felbab-Brown said. Pandemic border closures presented cartels with added incentive to traffic fentanyl: It is incredibly potent and profitable. The equivalent of a trunkful of heroin or cocaine can be carried across the border in a small suitcase.
Mexican soldiers are finding people at checkpoints ferrying tens of thousands of fentanyl pills. Navy personnel caught two men on a boat on the Sea of Cortez trying to smuggle 100,000. Mexican authorities raided a fentanyl factory in Chalco, a slum on the outskirts of Mexico City, where the drug was processed by the tons, so much they needed a forklift to move it.
In St. Louis, fentanyl flooded back to the streets. The death count exploded early last summer, said Rachel Winograd, a professor at the University of Missouri-St. Louis who tracks the state's overdose data. In the first six months of 2020, deaths increased 64% among Black people from the same period the year before, and 40% among white people.
Other cities saw a similar pattern. Doctors in Philadelphia found that in the first few months of the pandemic, overdoses increased more than 50% for Black people while decreasing for whites. In Massachusetts, health officials announced that overdose deaths among Black men soared in 2020 by nearly 70%.
Click here to continue reading.
SOURCE: Associated Press – CLAIRE GALOFARO