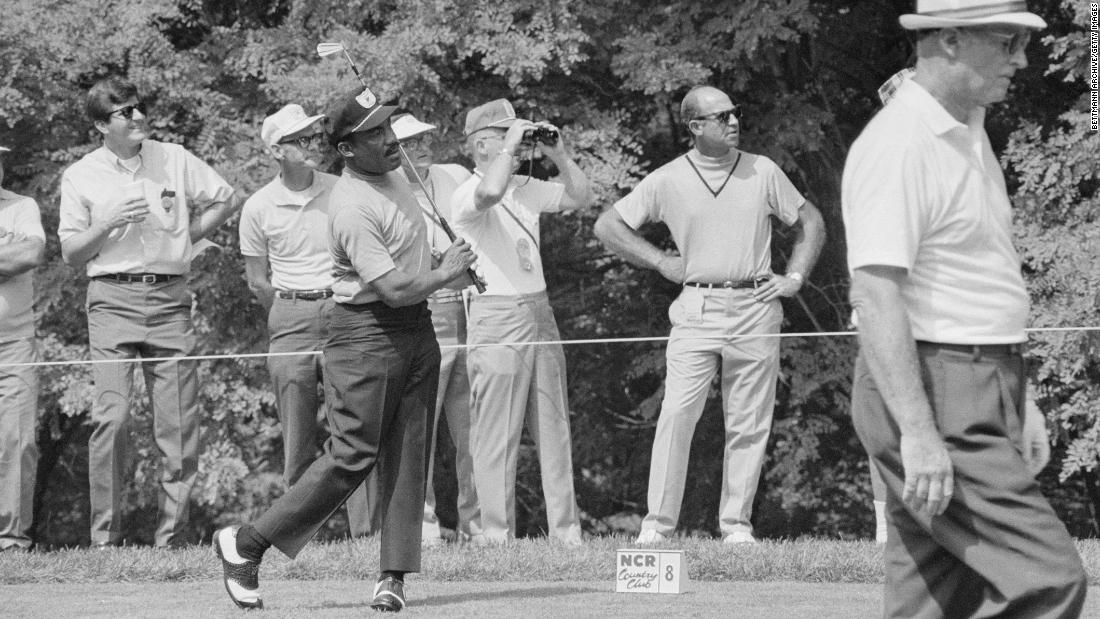 When Charlie Sifford tried to play with the White golfers, he was told no.
When he politely asked again after participating in events solely for Black players, he was on the receiving end of racist abuse or even death threats.
But Sifford did not give up.
With the backing of California attorney general Stanley Mosk and with fellow trailblazer Jackie Robinson by his side, Sifford became the first Black player to play on the PGA Tour in 1959.
And if you visit the Tiger Woods exhibition at the National Museum of African-American History and Culture in Washington, D.C., you'll see a photo of Sifford.
In breaking through the 'Caucasian only' clause in golf, Sifford helped open the door for other Black golfers, including the most famous Black golfer of all time, Woods.
And it's something Woods recognized, saying in 2015 following Sifford's death that he himself might not have been a professional golfer if it hadn't been for Sifford.
"He's like the Grandpa I never had," Woods said after a practice round in advance of the 2015 Farmers Insurance Open at Torrey Pines, the day after Sifford's death. "It's been a long night, and I'm sure it will be a long few days. He fought, and what he did, the courage for him to stick with it and be out here and play.
"I probably wouldn't be here (without Sifford). My dad would never have picked up the game. Who knows if the clause would still exist or not? But he broke it down."
While Sifford was the first Black player to make it through in golf, he had someone close to him to lean on.
Robinson, who broke the color barrier in Major League Baseball as a player in 1947, was a friend of Sifford's, and from his own experiences, passed on some advice to the golfer before he started his journey to make it onto the Tour.
"Jackie told him that he's going to have to face up to a lot of things, not respond to a lot of things because once he did that, it would be harder for him and harder for the people coming up behind him," Charles Sifford, Charlie's son, remembers.
Click here to read more.
SOURCE: CNN, Ben Morse