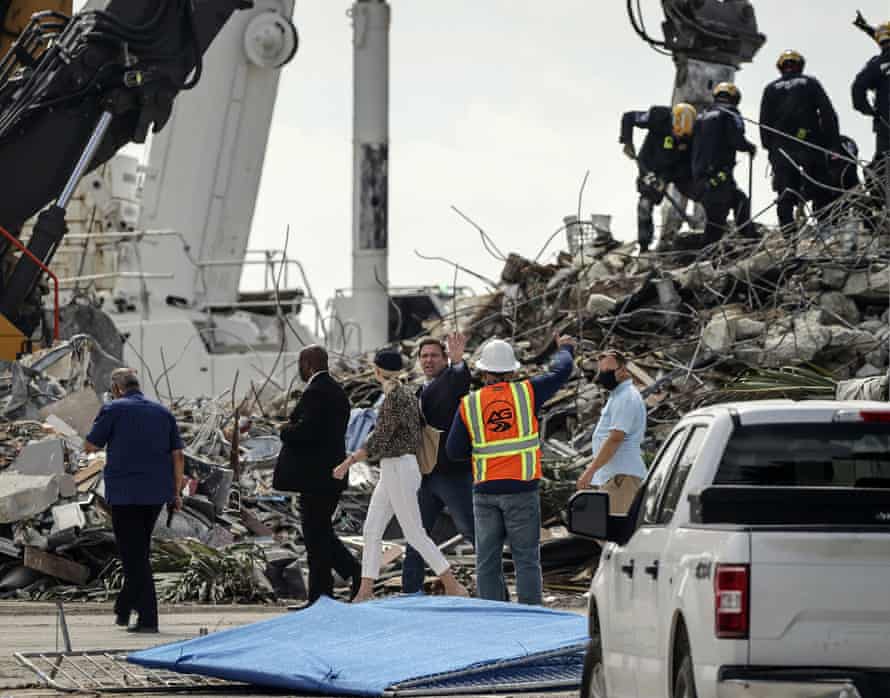 The successful implosion of the Champlain Towers South paved the way for rescue workers early Monday to begin scouring a previously inaccessible portion of the building. The demolition provided hope, however slim, that survivors might be hidden in voids in the massive pile of twisted concrete, metal and debris.
But it also signaled that firefighters will likely begin finding more victims at an accelerated pace. Indeed, by Monday evening, county officials announced that four more bodies had been discovered in the wake of the implosion, raising the death toll to 28, with 117 still missing in what could become one of the deadliest building failures in U.S. history.
Gov. Ron DeSantis, who toured the Surfside site on Monday, said rescuers are now searching what "happened to be where a lot of master bedroom areas were."
"Likely a lot of people who were sleeping at that time, unfortunately," he said.
Urban search-and-rescue workers continued combing through the massive rubble pile on Monday night, even as rain bands from Tropical Storm Elsa, which entered the Gulf of Mexico to the west, began pelting South Florida. Crews — which by the evening had removed 4.8 million pounds of concrete in all — had to pause intermittently because of lightning threats.
Video posted Monday night by Miami-Dade Fire Rescue showed a crane in action, and crews in hard hats, as winds whipped through the debris field, loose papers swirling away, palm trees bending in the background.
"The search and rescue team has been able to search all sections of the grid, on the collapse, following the building demolition now that the entire area is safe," Miami-Dade Mayor Daniella Levine Cava said during a briefing on Monday evening.
Click here to read more.
SOURCE: Miami Herald, Douglas Hanks, Bianca Padro Ocasio, and David Ovalle