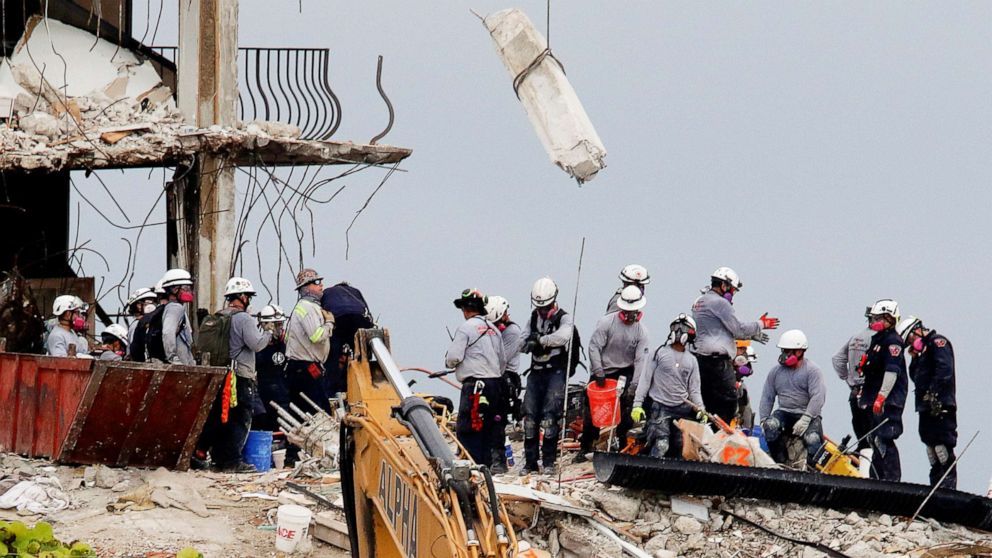 At least 18 people are dead and 145 others remain unaccounted for after a 12-story residential building partially collapsed in South Florida's Miami-Dade County last week, officials said.
The massive search and rescue operation marked its seventh day on Wednesday as crews continued to carefully comb through pancaked piles of debris in hopes of finding survivors. The partial collapse occurred around 1:15 a.m. local time Thursday at the Champlain Towers South condominium in the small, beachside town of Surfside, about 6 miles north of Miami Beach. Approximately 55 of the oceanfront complex's 136 units were destroyed, according to Miami-Dade Fire Rescue Assistant Chief Raide Jadallah.
The latest bodies pulled from the rubble were those of two children, ages 4 and 10, Miami-Dade County Mayor Daniella Levine Cava said Wednesday evening.
"For any loss of life, especially given the unexpected, unprecedented nature of this event, is a tragedy. But the loss of our children is too great to bear," the mayor said. "We're now standing united once again with this terrible new revelation that children are the victims as well."
So far, 139 people who were living or staying in the condominium at the time of the disaster have been accounted for and are safe, according to Levine Cava, who stressed that the numbers are "very fluid" and "continue to change." Officials previously were including the number of deceased among those accounted for but are now separating the figures.
"Our teams have worked through the night, as they have every night, to make headway through the rubble," Levine Cava said during a press conference in Surfside earlier on Wednesday. "The world is watching."
Click here to read more.
SOURCE: ABC News, Morgan Winsor