Daniel Whyte III, Who Has Preached the Gospel and the Word of God Nearly Every Day for Over Five Years and Who Predicted This Plague Repeatedly for Over Eleven Years, Tells Prime Minister Boris Johnson to Hold Fast on the Lockdown for Great Britain for the good of the Whole World. He Also Tells the Olympic Leadership Again to Shut Down the Olympics for the good of the Whole World. Please Know That Not Only in America but for the nations of the World, if the Church and the Government Leaders of the World Do Not Confess and Repent of All of Their Sins and Do Not Cease Causing Their Governments, an Institution That God Created and Is Over Just Like the Institution of the Church and the Institution of the Family, From Endorsing and Sanctioning Homosexuality, Homosexual Marriage, and the Homosexual Agenda, Their Country Will Be Destroyed Along With America. In fact, you are witnessing the loving, merciful, slow-rolling destruction of America and other countries of the world right now. God Is Very Loving, Merciful, and Gracious, but There Are Certain Things Where God Has to Draw the Line for the Good of the People. To All People Who Have Not Believed in the Lord Jesus Christ, Please Understand That You Need to Believe in Him Now So That You Can Be Saved From Hell and Saved to Heaven Because Much More Destruction and Death Is Coming. For Those Who Claim to Be Believers in Christ, You Need to Pray, Seek God's Face, Turn From Your Wicked Ways, and Repent and Get Back to Your First Love and Prepare to Meet Your God.
If you want to be saved from sin and hell and go to heaven when you die, here is how you can place your faith and trust in Jesus Christ.
First, accept the fact that you are a sinner, and that you have broken God's law. The Bible says in Romans 3:23: "For all have sinned and come short of the glory of God."
Second, accept the fact that there is a penalty for sin. The Bible states in Romans 6:23: "For the wages of sin is death…"
Third, accept the fact that you are on the road to hell. Jesus Christ said in Matthew 18:8: "Wherefore if thy hand or thy foot offend thee, cut them off, and cast them from thee: it is better for thee to enter into life halt or maimed, rather than having two hands or two feet to be cast into everlasting fire." Also, the Bible states in Revelation 21:8: "But the fearful, and unbelieving, and the abominable, and murderers, and whoremongers and sorcerers, and idolaters, and all liars, shall have their part in the lake which burneth with fire and brimstone: which is the second death."
Now that is bad news, but here's the good news. Jesus Christ said in John 3:16: "For God so loved the world, that he gave his only begotten Son, that whosoever believeth in him should not perish, but have everlasting life." Just believe in your heart that Jesus Christ died for your sins, was buried, and rose from the dead by the power of God for you so that you can live eternally with Him. Pray and ask Him to come into your heart today, and He will.
Romans 10:9 & 13 says, "That if thou shalt confess with thy mouth the Lord Jesus, and shalt believe in thine heart that God hath raised him from the dead, thou shalt be saved… For whosoever shall call upon the name of the Lord shall be saved."
If you believe that Jesus Christ died on the Cross for your sins, was buried, and rose from the dead, and you want to trust Him for your Salvation today, please pray with me this simple prayer: Holy Father God, I realize that I am a sinner and that I have done some bad things in my life. I am sorry for my sins, and today I choose to turn from my sins. For Jesus Christ sake, please forgive me of my sins. I believe with all of my heart that Jesus Christ died for me, was buried, and rose again. I trust Jesus Christ as my Savior and I choose to follow Him as Lord from this day forward. Lord Jesus, please come into my heart and save my soul and change my life today. Amen.
If you believed in your heart that Jesus Christ died on the Cross, was buried, and rose again, allow me to say, congratulations on doing the most important thing in life and that is accepting Jesus Christ as your Lord and Saviour! For more information to help you grow in your newfound faith in Christ, go to Gospel Light Society.com and read "What To Do After You Enter Through the Door". Jesus Christ said in John 10:9, "I am the door: by me if any man enter in, he shall be saved, and shall go in and out, and find pasture."
If you accepted Jesus Christ as your Savior today, please email me at [email protected] and let us know. There is some free material that we want to send you. If you have a prayer request, please e-mail that to us as well, and we will pray for you until you tell us to stop.
God loves you. We love you. And may God bless you.
---
Prime Minister Boris Johnson's decision to avoid imposing a circuit-breaker lockdown back in September was 'catastrophic' and warns talk of 'Freedom Day' tomorrow is 'premature' as the 'pandemic is far from over', according to a senior member of SAGE.
Sir Jeremy Farrar, director of the Wellcome Trust charity, says the Government's scientific advisory group met on September 21 last year and recommended 'a package of interventions' to reverse the 'exponential' surge in cases which followed the easing of restrictions last summer.
The measures including a short lockdown, known as a 'circuit-breaker', restrictions on the economy such as the closure of hospitality businesses and work from home, draconian bans on households mixing except for those in support bubbles, and a move to online university and college learning, Sir Jeremy says.
An accompanying paper summarising the impact of various restrictions noted that 'not acting now to reduce cases will result in a very large epidemic with catastrophic consequences in terms of direct Covid-related deaths and the ability of the health service to meet needs', he adds.
However, the Prime Minister's refusal to impose a short lockdown in September allowed the epidemic to 'continue its upward trajectory' and 'fostered the conditions for the arrival and then the domination of new variants', Sir Jeremy claims.
In an extract from his new book Spike: The Virus vs. The People – the Inside Story, which is being serialised by the Times and the Sunday Times, he says the Government 'had no excuse' for not imposing restrictions earlier, claiming 'data was clearly showing the epidemic was climbing, week after week after week' and that 'we knew what a lockdown could achieve'.
Sir Jeremy accuses Cabinet ministers of trying to salvage the economy 'at the cost of [Covid] lives and health' – a policy he branded 'misguided'. He also claims Mr Johnson told former No10 aide Dominic Cummings that lockdowns were 'bulls***t' and had said: 'I wish I'd been the mayor in Jaws and kept the beaches open.'
He adds: 'The missteps are clear: the decision on September 21 not to introduce a circuit-breaker; the wait until November before locking down; the premature lifting of lockdown on December 2. These set the scene for what can only be described as the carnage of January and February 2021.
'The loss of life in that short period dwarfed the first wave in spring last year. Tragedy is too mundane a word to describe what happened: many of these deaths were preventable.'
The Wellcome Trust director has now warned that talk of 'Freedom Day' tomorrow is 'premature' as he claims the 'pandemic is far from over' and urges the Government to donate vaccines to poorer countries, arguing: 'Nobody is safe until we all are.'
MailOnline has contacted Downing Street for comment.
Click here to read more.
Source: Daily Mail, By Jack Wright for Mailonline
Olympic athletes test positive in Tokyo days before Games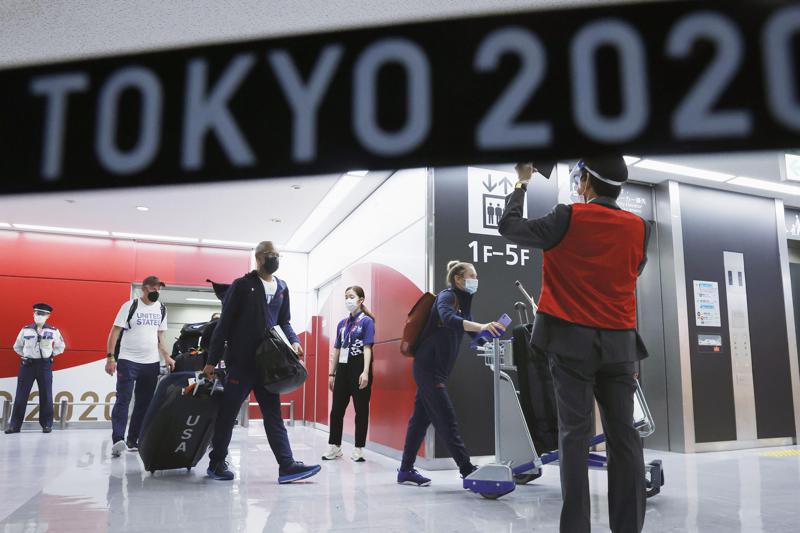 TOKYO (AP) — A third athlete at the Olympic Village in Tokyo has tested positive for COVID-19, with the Czech Republic team reporting the case Monday of a beach volleyball player who could miss his first game.
The positive case of an American gymnast, who was not identified and is an alternate on the women's team, also was confirmed by the United States Olympic and Paralympic Committee. Olympic champion Simone Biles was not affected by the result, nor were any of the other gold medal favorites on the team.
Czech beach volleyball player Ondřej Perušič could miss his opening game on Monday after a PCR test confirmed his infection. Perušič and his playing partner are due to the begin their Olympic program against a team from Latvia.
Czech team leader Martin Doktor said in a statement they would ask to postpone the game until the infected player is cleared to play.
Perušič, who said he has been vaccinated, is the second member of the Czech delegation to test positive in Tokyo after a team official's case was reported Saturday.
He is the third athlete who was staying at the village to test positive. Two South African men's soccer players had their COVID-19 cases announced Sunday.
The players and a team video analyst who tested positive one day earlier were moved to the "isolation facility" managed by the Tokyo Olympic organizing committee.
Click here to read more.
Source: AP
Fully-vaccinated US gymnast Kara Eaker, 18, tests POSITIVE for COVID-19 while training for the Olympics in Tokyo, days before opening ceremony – as rising number of cases sparks fresh fears over safety of the Games
A fully-vaccinated alternate on the US women's gymnastics team has tested positive for COVID-19 while training for the 2021 Olympics in Japan amid increasing concern over the safety of the Games.
18-year-old Kara Eaker, from Kansas City, is understood to have tested positive on Sunday, having traveled to Tokyo with three other alternates and the six main athletes who are expected to compete in the Games, including defending champion Simone Biles.
The news of her positive test was initially reported by Japanese officials on Monday morning, however they refused to name the athlete. She has since been identified by her coach, Al Fong, while USA Gymnastics confirmed that one of its alternate athletes had been infected and was quarantining in a local hotel.
According to WHO-TV reporter Justin Surrency, who spoke with Kara's coach, the teenager will go through 8-14 days of isolation, which began on Sunday.
Kara's father revealed to local Kansas City news outlet KSHB 41 that his daughter does not have any symptoms and that she is 'doing fine'. On June 27, shortly after she was selected as a traveling alternate for the gymnastics team, Kara told the same publication that she was fully-vaccinated.
Simone, 24, and the other five women chosen to compete for Team USA at the Olympics – Suni Lee, Jordan Chiles, Mykayla Skinner, Jade Carey, and Grace McCallum – are not understood to have come into contact with Kara, who has been training separately from the main squad alongside the other three alternates.
Click here to read more.
Source: Daily Mail
Japan girds for a surreal Olympics, and questions are plenty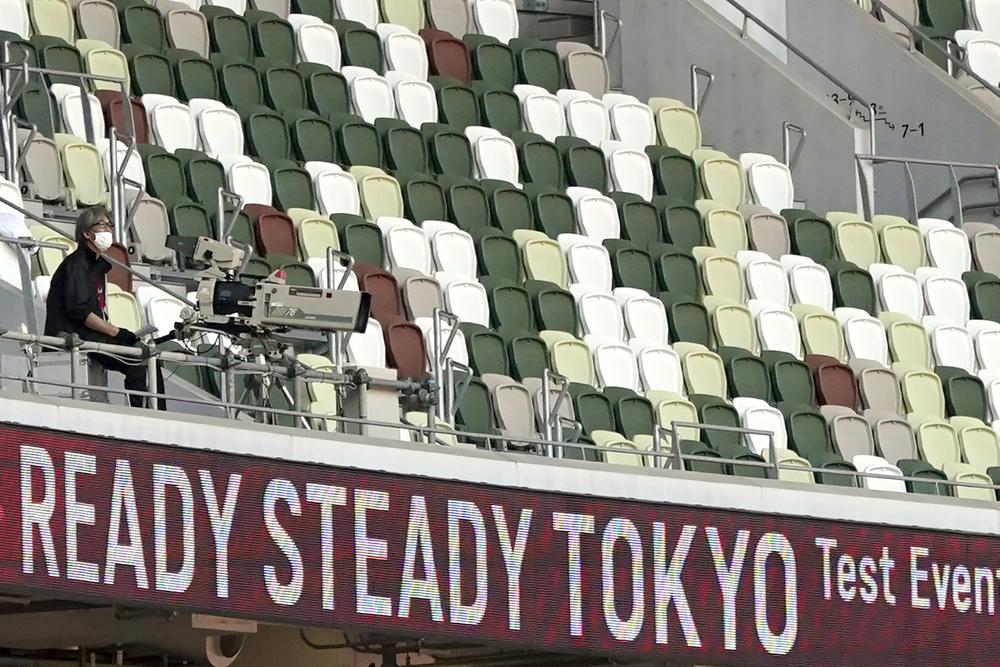 TOKYO (AP) — After a yearlong delay and months of hand-wringing that rippled across a pandemic-inflected world, a Summer Games unlike any other is at hand. It's an Olympics, sure, but also, in a very real way, something quite different.
No foreign fans. No local attendance in Tokyo-area venues. A reluctant populace navigating a surge of virus cases amid a still-limited vaccination campaign. Athletes and their entourages confined to a quasi-bubble, under threat of deportation. Government minders and monitoring apps trying — in theory, at least — to track visitors' every move. Alcohol curtailed or banned. Cultural exchanges, the kind that power the on-the-ground energy of most Games, completely absent.
And running like an electric current through it all: the inescapable knowledge of the suffering and sense of displacement that COVID-19 has ushered in, both here and around the world.
Click here to read more.
Source: AP
Top Olympic sponsor Toyota pulls Games-related TV ads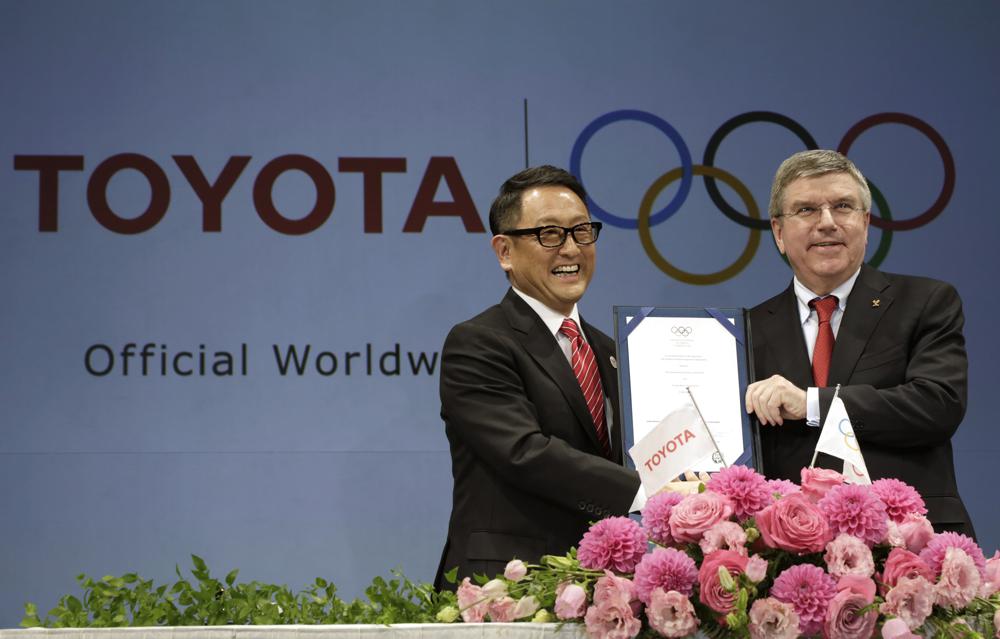 TOKYO (AP) — Toyota won't be airing any Olympic-themed advertisements on Japanese television during the Tokyo Games despite being one of the IOC's top corporate sponsors.
The extraordinary decision by the country's top automaker underlines how polarizing the Games have become in Japan as COVID-19 infections rise ahead of Friday's opening ceremony.
"There are many issues with these Games that are proving difficult to be understood," Toyota Chief Communications Officer Jun Nagata told reporters Monday.
Chief Executive Akio Toyoda, the company founder's grandson, will be skipping the opening ceremony. That's despite about 200 athletes taking part in the Olympics and Paralympics who are affiliated with Toyota, including swimmer Takeshi Kawamoto and softball player Miu Goto.
Nagata said the company will continue to support its athletes.
Being a corporate sponsor for the Olympics is usually all about using the games as a platform to enhance the brand. But being linked with a pandemic-era Games may be viewed by some as a potential marketing problem.
Click here to read more.
Source: AP
Lifting lockdown restrictions in England today in the face of soaring Covid infections will cause a 'mad' spike that could see 'tens of thousands' more people die in the coming months, top scientists have warned.
Nationally, there are currently 45,000 new infections every day across Britain, on average, and the Government's Scientific Advisory Group for Emergencies (SAGE) expects this to reach at least 100,000 in August or September.
Professor Lockdown Neil Ferguson — whose frightening modelling of the first wave spooked ministers into the initial shutdown — has warned that daily cases could rise to 250,000 this autumn, which would dwarf the 68,000 at the height of the second wave in January.
Experts, including one of the Government's own advisers, said it was 'murderous' to go through with Freedom Day in England today despite surging infections.
SAGE member Professor Andrew Hayward, from University College London, claimed that 'tens of thousands' more people could die from Covid in the coming months if people are not cautious with their new freedoms.
The epidemiologist told Sky News: 'We are heading into the biggest wave of Covid infection that we have ever seen and, even though the vaccine will substantially reduce the number of deaths and hospitalisations, it's still likely that we will see somewhere in the low tens of thousands of deaths even if we are cautious.
'And that could move into the mid and high tens of thousands of deaths if we just went back to normal activity.'
Professor Gabriel Scally, a public health expert at the University of Bristol, told MailOnline that reopening England today even though the metrics are trending in the wrong direction was 'madness'.
He said: 'You don't need a crystal ball to guess what's going to happen here, we've seen over the past few weeks what direction we're heading in as a country.
'The UK has had the highest number of cases in the world on some days and for weeks has had more infections than the rest of Western Europe put together… I was in a briefing the other day and someone described it [Freedom Day] as being murderous.
'All it [Freedom Day] will do is accelerate the epidemic further, I think it's madness, it's an extraordinary decision to do it now.'
Meanwhile, just 100,000 people in England are living in areas where there were virtually no new Covid cases last week, according to MailOnline analysis which lays bare how the Indian variant has engulfed every corner of the country.
Department of Health data shows only 11 out of 6,792 neighbourhoods (0.2 per cent) had three or less new infections in the week ending July 13, compared to more than 1,000 in March before the Delta strain took off.
The Government suppresses numbers when they drop below three to conceal the identities of infected residents who could be singled out. Nearly 150 areas have 'extraordinarily' high rates of above 1,000 per 100,000.
The UK posted 54,000 cases on Saturday and 47,000 on Sunday, giving it the highest number of cases of anywhere in the world over the weekend according to data compiled by Johns Hopkins University.
And around one in six areas in England are now reporting their highest rate of new Covid-19 cases since comparable records began last summer, when mass testing was first introduced.
Click here to read more.
Source: Daily Mail