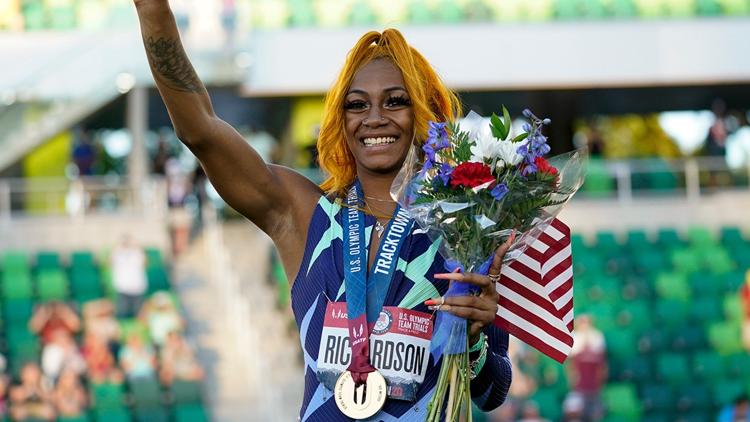 Nike is standing by Sha'Carri Richardson after the sprinter was axed from Team USA for testing positive for cannabis, with the sportswear giant praising her 'honesty and accountability' after she admitted to taking the drug as a way to cope with her mother's death.
Richardson, 21, was banned for 30 days after failing the drugs test, and will miss out on the 100-meter dash at the Tokyo Games.
However, Nike confirmed Friday they would be continuing their sponsorship of Richardson, which dates back to 2019. 'We appreciate Sha'Carri's honesty and accountability and will continue to support her through this time,' a spokesman said.
It is still unclear if Richardson will represent Team USA in Tokyo later this month, because despite being banned from the 100 meters her suspension finishes before the 4x100m relay.
The decision to ban Richardson generated a wave of criticism, with Rep. Alexandria Ocasio-Cortez controversially claiming anti-cannabis laws are racist.
'The criminalization and banning of cannabis is an instrument of racist and colonial policy,' AOC tweeted.
Her mention of anti-cannabis laws being racist is a reference to how enforcement of such laws often disproportionately targets minority groups.
When cannabis was legalized in New York earlier this year, NYC mayor Mayor Bill de Blasio said: 'This is about righting a wrong. This is about turning the page on a racist law that unfairly targeted Black and brown communities for decades. Healing begins now in our state.'
Hollywood stoner Seth Rogen also accused Team USA of 'racism', tweeting Friday that 'the notion that weed is a problematic "drug" is rooted in racism.'
However, President Biden backed the decision to ban her, telling CBS News reporter Bo Erickson: 'The rules are the rules and everybody knows what the rules were going in.
'Whether they should remain that way or will is a totally different issue.'
Richardson has apologized to fans, but says she only used marijuana to help cope with the death of her biological mother before the Olympic trials in Oregon, where Nike's global HQ is based.
'I just say don't judge me because I am human,' she told NBC's Today on Friday. 'I'm you, I just happen to run a little faster.'
Click here to read more.
SOURCE: Daily Mail