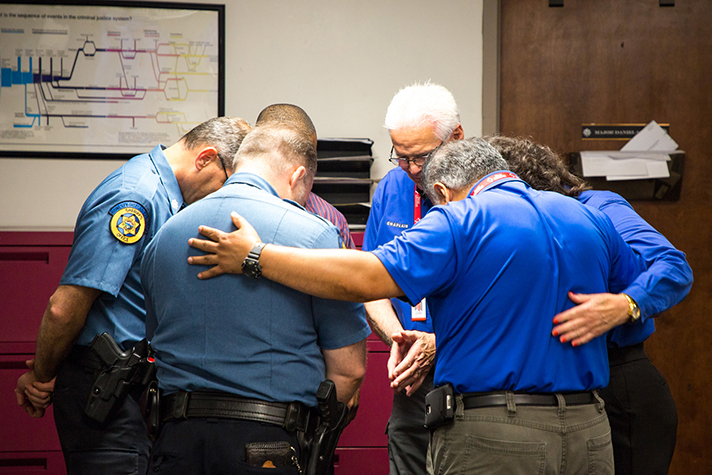 At the request of a local police chief, chaplains from the Billy Graham Rapid Response Team (BG-RRT) are ministering in Levelland, Texas, where a SWAT commander was killed and four other officers were injured last week.
On July 15, an hours-long standoff occurred in a small west Texas city after officers responded to a call about a possible armed man in a residential area. Gunfire quickly ensued, injuring officers. The 22-year-old suspect barricaded himself in a home before eventually being injured and taken into custody.
Sgt. Josh Bartlett, leader of the Lubbock County Sheriff's Office SWAT command, later died from his wounds, and the other injured officers are on the road to recovery.
"The Billy Graham Rapid Response Team is saddened to hear about another law enforcement officer who was killed in the line of duty, and we are praying for healing for the other officers who were injured," said Josh Holland, BG-RRT's assistant director.
"We have crisis-trained chaplains with law enforcement backgrounds who are deploying to the area to provide hope and comfort to the officers as they grieve."
Chaplain Coordinator Kelly Burke, a retired police officer, is leading a team of five chaplains and will continue serving through the weekend.
Over the past year, the Rapid Response Team has been hosting Law Enforcement Appreciation Events to show their support to officers who protect and serve communities. This summer, the Billy Graham Evangelistic Association began offering a week-long spiritual retreat in Port Alsworth, Alaska, for officers and their spouses.
Do you know a police officer? Let him or her know about Law Enforcement Appreciation Retreats at the Billy Graham Training Center at The Cove in September and October.
SOURCE: BGEA, Lizzy Long