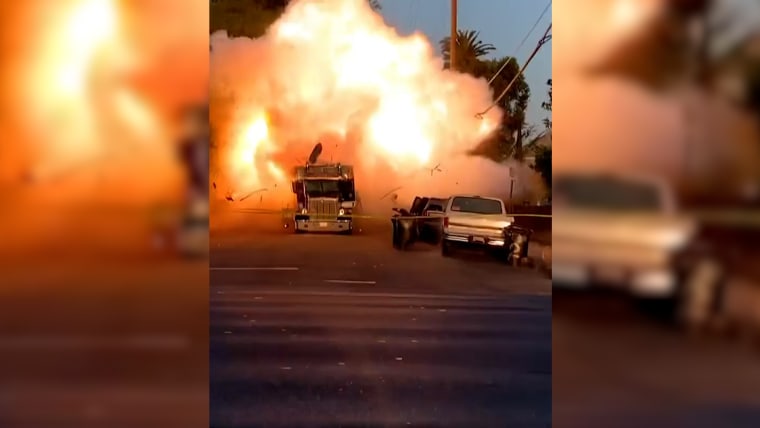 Seventeen people, including police, were hurt when a large explosion rocked a Los Angeles neighborhood Wednesday evening as thousands of pounds of illegal fireworks were being seized, officials said.
None of the injuries were life-threatening, police said.
The blast happened about 7:30 p.m. local time (10:30 p.m. E.T.) as the bomb squad was detonating some of the explosives in a vehicle with a containment vessel designed to withstand blasts.
"This vessel should have been able to safely dispose of that material," LAPD Chief Michel Moore said Wednesday night.
"And you saw the resulting damage, and the total catastrophic failure of that containment vehicle," Moore said.
The blast destroyed the vehicle, overturned a nearby car and shattered windows in homes and businesses.
Three people in the area suffered moderate injuries, and three others suffered minor injuries, officials said. One additional person was treated at the scene, but was not taken to a hospital. Nine LAPD officers and a federal Bureau of Alcohol, Tobacco, Firearms and Explosives (ATF) agent also suffered minor injuries.
Click here to read more.
SOURCE: NBC News, Andrew Blankstein, Eric Leonard and Phil Helsel