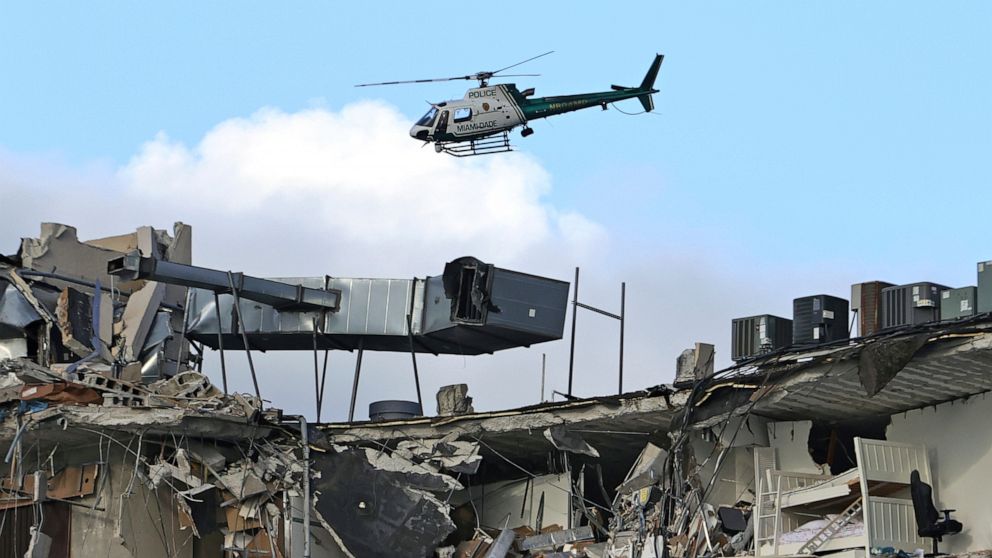 At least three people are dead as many as 99 are unaccounted after a 12-story residential building partially collapsed in Miami-Dade County, Florida, early Thursday, a county official told ABC News.
The collapse of the Champlain Towers South condominium in the small, beachside town of Surfside, about 6 miles north of Miami Beach, was reported around 1:30 a.m. A massive search and rescue operation was launched before dawn and crews are still carefully combing through the wreckage and remaining structure in hopes of finding survivors.
So far, crews have rescued 35 people who were trapped in the building and two others from beneath the rubble, according to Miami-Dade Fire Rescue Assistant Chief Raide Jadallah. Officials said 102 people have been accounted for.
Teams of firefighters have been cutting through the rubble and placing sonar devices as part of the search efforts. Responders have not heard any voices coming from the pile, though have picked up "a possibility of a banging," according to Jadallah.
"This process is slow and methodical," Jadallah told reporters during a late afternoon press briefing. "Every time there's a shift in the rubble, we have additional rubble that shifts on us."
It's unclear exactly how many residents are missing.
A "substantial number" of the building's residents are foreigners, according to Florida Sen. Marco Rubio.
The Foreign Ministry of Paraguay said six Paraguayan nationals were in the building and still missing: Sophia López-Moreira, the sister of the country's first lady; her husband, Luis Pettengill; their three children; and their nanny, Lady Luna Villalba. President Mario Abdo Benítez canceled his events due to the incident.
Argentina's Miami consulate said nine Argentine nationals are missing; Venezuela's ambassador to the U.S. confirmed four Venezuelan nationals are missing; and Uruguay's Foreign Ministry said three Uruguayan nationals have been affected, though their status is unclear. Colombia's Foreign Ministry also reported that six Colombian nationals resided in the building and officials are still trying to determine whether they were there at the time of the collapse.
Gabe Nir, who lives in Champlain Tower South with his mother and sister, told ABC News that they ran from the building when they heard the collapse.
Click here to read more.
SOURCE: ABC News, Morgan Winsor, Jon Haworth, Emily Shapiro, and Meredith Deliso