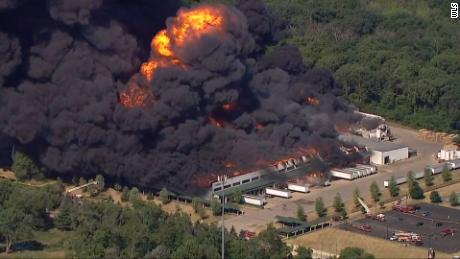 (CNN) Residents were ordered to evacuate their homes after a chemical fire broke out Monday morning at the Chemtool Inc. plant in Rockton, Illinois.
The city fire department ordered a mandatory evacuation for all residents and businesses in a one-mile radius of the plant, police said in a message on Twitter.
Rockton, IL – 10:46 am pic.twitter.com/y4zZchDUUw

— Thomas The Train (@PapaTomTweets) June 14, 2021
CNN affiliate WREX reported that city Fire Chief Kirk Wilson said late Monday morning that the blaze does not pose an immediate danger to the community. The fire department will let the fire burn itself out to avoid environmental issues, WREX reported.
Wilson said the 70 employees at the factory were able to get out safely. When fire crews arrived, the flames were through the roof and clouds of smoke filled the sky.
CNN affiliate WIFR said one firefighter was injured. No other details were immediately available.
At least 40 agencies and 150 fire personnel responded to the blaze, Wilson told WREX.
Click here to read more.
Source: CNN