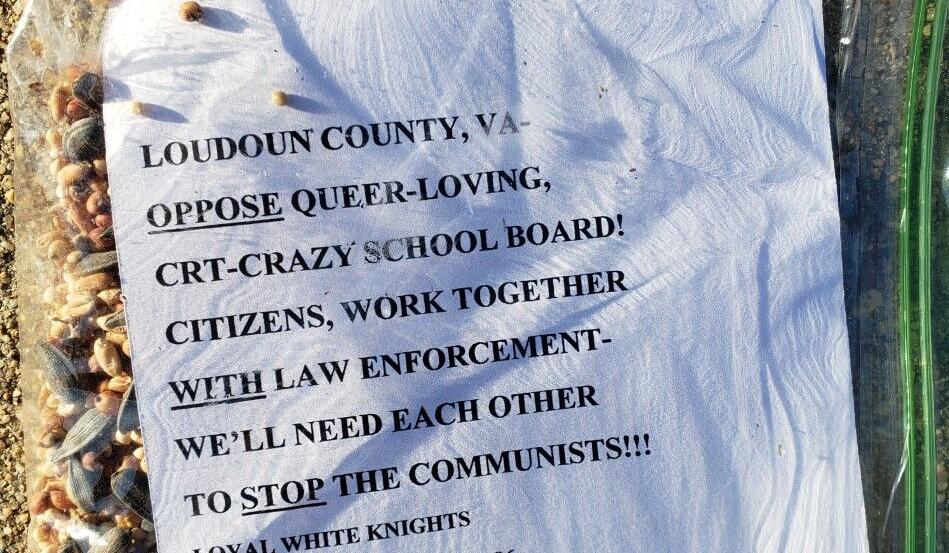 Ku Klux Klan fliers have been distributed in Virginia towns opposing topics that were recently the center of a heated school board meeting.
The Loudoun County Sheriff's Office said in a statement that residents from Ashburn and Leesburg found the propaganda from Loyal White Knights Ku Klux Klan in their driveways on Thursday morning.
The sheriff's office said the fliers, which were placed in plastic bags and weighed down with birdseed, were also found in the driveways of several homes along Cross Timber Drive, Citation Drive, and Deer Chase Place in Ashburn, reported Loudoun Now.
Law enforcement said it does not appear that any of the households that received the fliers were purposely targeted.
KKK fliers have frequently appeared in the town of Leesburg in recent years.
"They don't even have enough courage to bring it forward during the day; they throw it on people's lawns late at night," Leesburg Mayor Kelly Burk told the Loudoun Times. "It's not wanted, it's not needed, it's not necessary and they're trying to rile people up."
A preliminary investigation found the fliers were distributed in response to a Loudoun County School Board meeting which broke out into chaos on Tuesday, amid a heated debate about the teaching of critical race theory and a draft policy on transgender and nonbinary students' rights.
Click here to read more.
SOURCE: Newsweek, Ewan Palmer