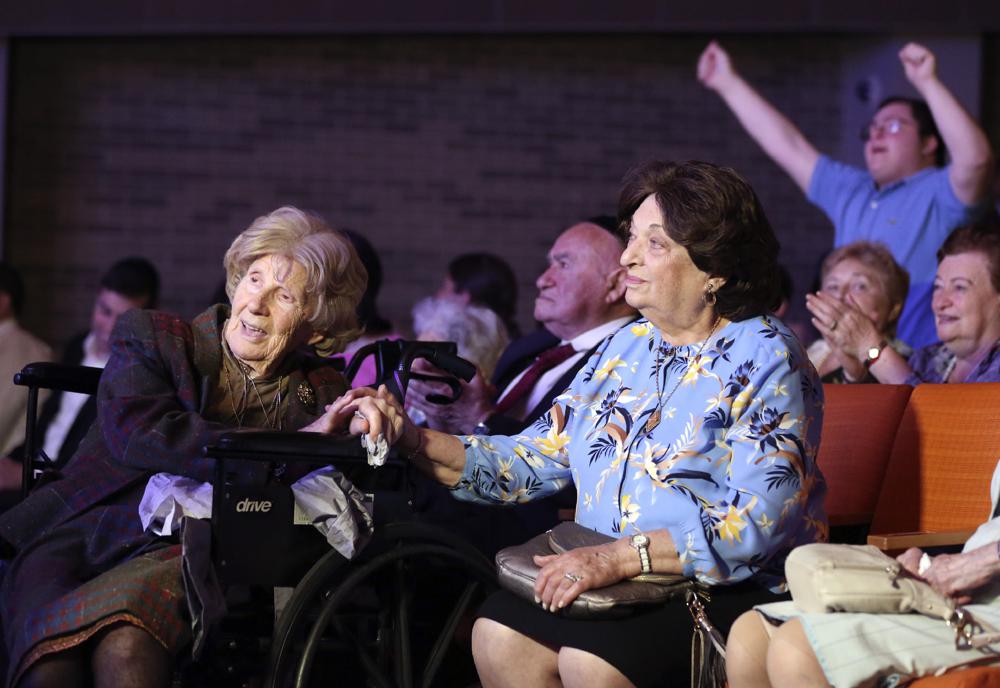 After being cooped up in the house for months because of the coronavirus pandemic plague, dozens of holocaust survivors attended the concert in Brooklyn put on by popular Orthodox Jewish singer Yaakov Shwekey. The concert was organized by the Nachas Health and Family Network and other groups that reach out to the more than 35,000 Holocaust survivors living in the New York City metropolitan area.
This was the first large gathering for New York area survivors after months of isolation. It was held in the Yeshivah of Flatbush auditorium. There was much clapping, singing, and dancing. Many held hands as they tried to hold back the tears at the instrumental rendition in violin and piano of "Ani Ma'amin," Hebrew for "I believe," which was sung by many Jews as they were herded into cattle cars on their way to concentration camps.
The survivors, now in their 80s and 90s, suffered atrocious mistreatment in concentration camps.
During WWII, many of them were tattooed with ID numbers, had their hair completely cut off, and were used as slave labor. Some nearly starved. Many witnessed family members killed.
Some of the survivors shared their experiences to teach younger generations about the horrors they endured at a time when global antisemitism is rising. Few young people know about the Holocaust and its death camps.
Quite a number of young students helped out during the concert to make it a memorable one for the elderly survivors.
As Michael Oved, 17, who recently graduated from the Yeshivah of Flatbush Joel Braverman High School and will soon attend Harvard University said, "It's the unfortunate reality that some time from now, we're not going to have these Holocaust survivors to tell their story, so it's so crucial and critical for us to be with them, to get their stories and cherish them."
There is a message here, Oved said, and that "is to keep going. These people have suffered through hell and back, yet they're here standing. And during the pandemic, they were just as strong as they ever were. So their message to us should be: Always, always persevere and never give up."
Dolly Rabinowitz who lived through Auschwitz and the Death March, could not contain her excitement: "To be out once again is like reviving ourselves. To sit among our children and grandchildren is heartwarming."
– BCNN1 Staff