Daniel Whyte III Says the Gallup Poll that shows a "Record High 70 Percent of people in America Support Same-sex Marriage" Would Never Have Happened If many Evangelical Pastors and churches Had Not lived hypocritical lives of adultery, fornication, swinging, child molestation, and homosexuality themselves, and then Compromised on Divorce and Remarriage and Then on Homosexuality, Lesbianism, and Same-sex Marriage. The Homosexuals and Lesbians Didn't Defeat Christ, They Defeated a Hypocritical, bought-off, Compromising, Laodicean Church
In addition, as has been suspected for many years, the Republican party, which is the political party that many white conservative evangelicals belong to, has been on board with homosexuals for years even though they have always portrayed themselves as moral and conservative. Even though most blacks are not for the abomination of homosexuality, it was the black church that backed a black president named Barack Obama who got the ball rolling to cause the government to go against God and sanction homosexuality and homosexual marriage.
By the way, for those who ask why does he (Daniel Whyte III) keep mentioning divorce and remarriage like it is some great sin, well, because according to God's Word, it is, except for the cause of adultery; but the truth of the matter is pastors and pastors' wives and other ministers in the church as well as in the pew have gotten divorces for far less which has destroyed families and has devastated children and has wreaked havoc in the church. The church is so backward now, it has a thing called Divorced Care Ministry which is nothing but a glorified dating and hook-up spot for sex-starved, separated, divorced people. Oftentimes the pastor's wife and occasionally along with the pastor himself, play cupid between divorced people and exasperate the problems in those families and the church. As he has said many times, all churches should disband the Divorced Care Ministry which is not a ministry, and create a Marriage Care Ministry which would focus on keeping marriages together in a biblical fashion based upon Ephesians chapters 5 and 6. If he had the time, he would start it himself. Anyway, just like the devil knows the Bible, the homosexual activist knows the Bible too and they know that all the pastors and pastors' wives who are divorced and remarried should not be members of the church much less preach in the church; they also know about the divorced and remarried deacons, deacons' wives, divorced and remarried trustees, trustees' wives, and they know about the hundreds of divorced and remarried church members who are happily welcomed into the church. Of course, the homosexual activists also know about the many pastors and pastor's wives who have committed adultery, fornication, swinging, and who are secret homosexuals and lesbians themselves. So, as soon as what Spurgeon called the "so-called church" tries to go against homosexuality and homosexual marriage, this is what the homosexuals bring up. They say well if we can't be members of the church then the divorced and remarried pastors and pastors' wives, the divorced and remarried deacons and deacons' wives, and the divorced and remarried trustees and trustees' wives, and the divorced and remarried church members shouldn't be members either. You cannot have a double standard. So, pastors and churches that are guilty of this hypocrisy have no moral authority to stand against the onslaught of the homosexual, lesbian, bisexual, and transgender demonic juggernaut. People we cannot compromise on the Word of God at any point and expect to win. Do you want to know why the church is suffering from this novel coronavirus plague and we are facing destruction? It is because we have disrespected God by disobeying His Word and compromising His Word, and we have caused God's enemies to blaspheme.
It's one thing to have people in a country committing the abomination of homosexuality but it is another thing to have national government leaders push for, approve of, vote for, and sign into law to sanction the abomination of homosexuality and homosexual marriage which even in Lot's day was unheard of. So, you ask what is the solution? At this point, there is no solution as Daniel Whyte III has been preaching and warning for over ten years God is in the loving, merciful process of dismantling America piece-by-piece and destroying her. Lost, unsaved people including homosexuals need to repent and believe in Christ, truly saved people, born-again ones should pray without ceasing and continue obeying the Word of God and consider escaping the destruction of America by moving to a country that still honors God and is firmly against the abomination of homosexuality and lesbianism because Daniel Whyte III believes that America will be destroyed before the rapture of the church simply because God gave the church in America a unique opportunity due to the special way this country was formed to make it a truly Christian nation where it would have been impossible for the president, the Congress, and the Supreme Court to sanction the abomination of homosexuality that brought about the destruction of Sodom and Gomorrah, and we the church have failed God, Jesus Christ, and America. And this is all in light of the fact that outside of Israel, God has never been so good to a nation like America which includes the church in America, and the God of the Bible that I know will not be disrespected, dishonored, taken for granted, marginalized, and pushed to the periphery like that without severe chastisement and punishment, so I believe that God is going to destroy America.
Revelation 3:14-22:
14 And unto the angel of the church of the Laodiceans write; These things saith the Amen, the faithful and true witness, the beginning of the creation of God;
15 I know thy works, that thou art neither cold nor hot: I would thou wert cold or hot.
16 So then because thou art lukewarm, and neither cold nor hot, I will spue thee out of my mouth.
17 Because thou sayest, I am rich, and increased with goods, and have need of nothing; and knowest not that thou art wretched, and miserable, and poor, and blind, and naked:
18 I counsel thee to buy of me gold tried in the fire, that thou mayest be rich; and white raiment, that thou mayest be clothed, and that the shame of thy nakedness do not appear; and anoint thine eyes with eyesalve, that thou mayest see.
19 As many as I love, I rebuke and chasten: be zealous therefore, and repent.
20 Behold, I stand at the door, and knock: if any man hear my voice, and open the door, I will come in to him, and will sup with him, and he with me.
21 To him that overcometh will I grant to sit with me in my throne, even as I also overcame, and am set down with my Father in his throne.
22 He that hath an ear, let him hear what the Spirit saith unto the churches.
---
WASHINGTON, D.C. — U.S. support for legal same-sex marriage continues to trend upward, now at 70% — a new high in Gallup's trend since 1996. This latest figure marks an increase of 10 percentage points since 2015, when the U.S. Supreme Court ruled that all states must recognize same-sex marriages.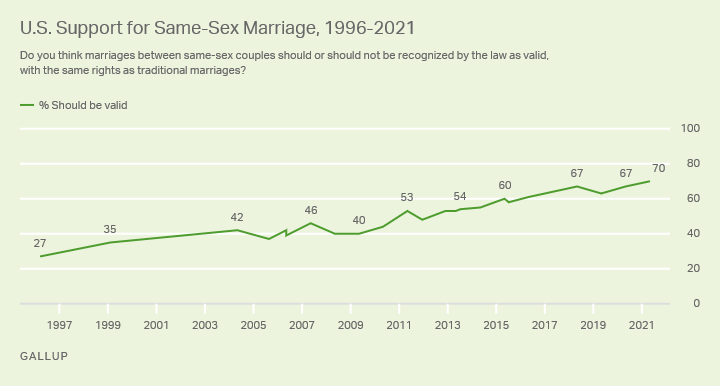 Line graph. The percentage of Americans who say same-sex marriage should be recognized by law as valid. 70% of Americans in the latest poll, from 2021, say this.
These data are from Gallup's annual Values and Beliefs poll, conducted May 3-18.
Today's 70% support for same-sex marriage marks a new milestone in a trend that has pointed upward for a quarter of a century. A small minority of Americans (27%) supported legal recognition of gay and lesbian marriages in 1996, when Gallup first asked the question. But support rose steadily over time, eventually reaching the majority level for the first time in 2011.
By the time of the Supreme Court's Obergefell v. Hodges decision in 2015, support for gay marriage had reached 60%. Since then, the issue has been less prominent in U.S. politics, and public support for same-sex marriage has continued to increase.
Gallup has recorded other shifts in Americans' ideas on marriage over time, historically, including expanded support for interracial marriage, which had 87% approval as of Gallup's 2013 update.
For the First Time, a Small Majority of Republicans Support Gay Marriage
Republicans, who have consistently been the party group least in favor of same-sex marriage, show majority support in 2021 for the first time (55%). The latest increase in support among all Americans is driven largely by changes in Republicans' views.
Democrats have consistently been among the biggest supporters of legal same-sex marriage. The current 83% among Democrats is on par with the level of support Gallup has recorded over the past few years. This could suggest that support for gay marriage has reached a ceiling for this group, at least for now. Meanwhile, support among political independents, now at 73%, is slightly higher than the 68% to 71% range recorded from 2017 to 2020.
Line graph. The percentage of Americans who say same-sex marriage should be recognized by law as valid, by political affiliation. 83% of U.S. Democrats, 73% of independents and 55% of Republicans in 2021 say same-sex marriage should be recognized by the law as valid.
Growth in Support for Same-Sex Marriage Continues Across Age Groups
As would be expected at a high-water mark in national support for same-sex marriage, all age groups are the most supportive they have been to date. Still, age differences remain, with 84% of young adults, 72% of middle-aged adults, and 60% of older adults saying they favor same-sex marriage.
Line graph. The percentage of Americans who say same-sex marriage should be recognized by law as valid, by age group. 84% of Americans aged 18-34, 72% of those aged 35-54 and 60% of those 55 years of age or older in 2021 say same-sex marriage should be recognized by law as valid.
Bottom Line
Once opponents of legalization, Republicans have mostly come to back it. Court and legislative challenges to the legal status of same-sex marriage have simmered down since the Supreme Court issued its decision. Meanwhile, older U.S. adults, who were once holdouts in support for gay marriage, now come down on the same side of the issue as young adults.
Gallup's trend illustrates that Americans' views can shift in a relatively short time span, creating a new consensus — even as polarization on other measures intensifies.
View complete question responses and trends (PDF download).
Learn more about how the Gallup Poll Social Series works.