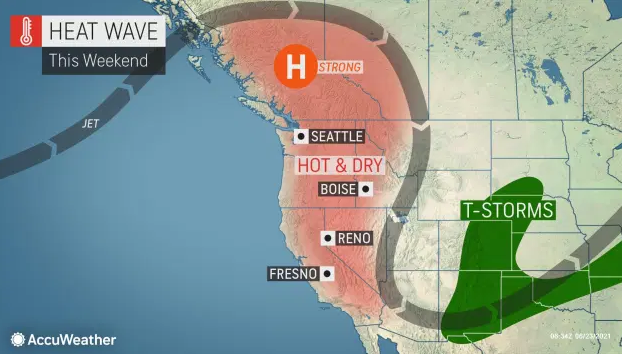 Excessive heat watches and red flag warnings were in effect across the northwestern United States Wednesday as record heat began building in some places and AccuWeather forecasters along with local officials are warning that the weather is going to become a lot hotter in the coming days.
"We're going to be looking at all-time record highs in some spots," AccuWeather Chief Broadcast Meteorologist Bernie Rayno warned for a part of the country where air conditioning is not a staple in homes. Rayno said some of the places that will see temps soar farthest above normal include those along the Interstate-5 corridor between Seattle and Portland.
Indeed, Seattle Mayor Jenny Durkin this week issued guidance outlining ways for residents to stay cool during the unusual warm spell. And the National Weather Service (NWS) office in Seattle provided tips for keeping homes that don't have air conditioning cool during a heat wave.
It is not just the northwestern U.S. where all-time record highs may be set. There is the potential for a new Canada high temperature mark to be set with the heat wave this weekend to early next week. That temperature is 113 F or 45 C and was set on July 5, 1937, at Midale and Yellow Grass, Saskatchewan.
Click here to read more.
Source: Accuweather