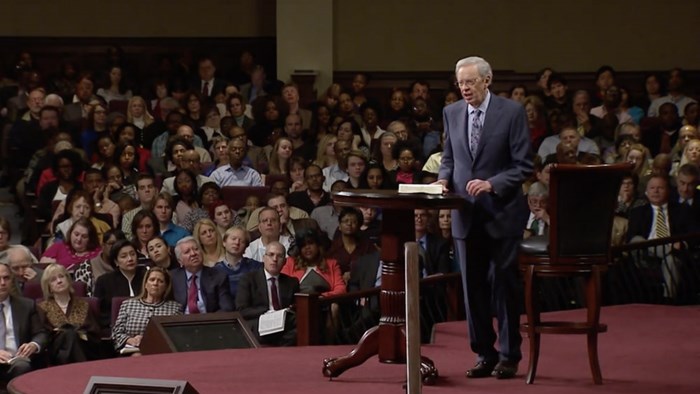 Social media scam is using the Baptist preacher's name to advertise gummies, oil.
Charles Stanley has been spending more time with family since he stepped down as pastor of First Baptist Church Atlanta in 2020. He has continued his schedule of preaching on TV and radio with In Touch Ministries. And he is working on a book about prayer that will be released this fall.
He has not started a new business selling gummies and other products infused with cannabidiol (CBD), a compound extracted from the marijuana plant.
Enough people thought the longtime Southern Baptist pastor, considered one of the best evangelical preachers of his generation alongside Billy Graham and Chuck Swindoll, might have gotten into the CBD business, however, that In Touch Ministries released a warning on Saturday: "IT IS A SCAM."
"Dr. Stanley has not begun any new venture," the official statement said. "Scammers are attempting to trick you into giving your personal information or infect your electronic devices by using Dr. Stanley's image."
In Touch Ministries staff have reported the false advertising to Facebook and other social media sites selling "Charles Stanley CBD gummies" and "Charles Stanley CBD oil," but new ads—with the preacher's name superimposed over a large marijuana leaf, or the preacher's name next to a spilled pile of glistening gummy bears—have appeared to replace them.
"Our social media team has been working with Facebook to quickly remove these false ads as soon as we are alerted to them," Seth Grey, an In Touch Ministries spokesman, told CT. "Unfortunately, as soon as one ad is removed, another pops up in its place."
And just to be clear: "This is false and Dr. Stanley does not endorse anything like this," Grey said.
The false advertisements seem to have started back in April, beginning simultaneously on multiple websites registered in Iceland. Some of the sites were started right before the scam began, while others have previously advertised the same CBD products with other celebrities' names, including Oprah Winfrey and Martha Stewart.
A second wave of websites, designed to look like news outlets with names like "24×7 News" and "Big News Network," pretended to review the product in May and June. Each piece ended with a large red button to buy the product.
The promotional material was all written in garbled English, infused with health and fitness buzzwords.
"Charles Stanley CBD Gummies are one of the most selling and effective health improvement products that are constituted from various herbal and natural ingredients that are pure and natural to help consumers to get over various mental and physical health issues such as anxiety, depression, stress, mental headache, sleeping disorders, acne issues, heart diseases, etc.," said one website.
Click here to read more.
SOURCE: Christianity Today – DANIEL SILLIMAN