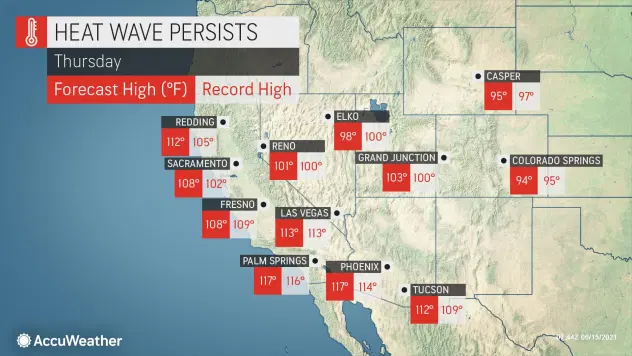 Death Valley, California, the record-holder for the highest air temperature ever recorded on Earth, 134 degrees Fahrenheit, could come fairly close to that mark later this week as an extraordinary heat wave tightens its grip on the West. And that isn't the only location that will stamp new marks in the weather history books with this heat surge, according to AccuWeather meteorologists.
Forecasters say this current heat wave won't just be remembered for its intensity, but also for its duration.
Dozens of record highs have already fallen from California and Arizona to Montana and Idaho, and more are likely to tumble heading into the weekend as temperatures remain well above 100 F and even 110.
The expansive nature of excessive heat watches and warnings over parts of the country familiar with extreme heat is a testament to the severity of this particular heat wave. Many of these alerts last into the weekend.
The interior West will remain sweltering through the remainder of the week and into the weekend, according to AccuWeather Lead Long-Range Meteorologist Paul Pastelok.
"Temperature departures from the Southwest to Montana can average 10-20 degrees Fahrenheit above normal. Some areas will even have temperatures up to 25 degrees above normal," Pastelok said.
Temperatures began to soar this past weekend in response to a northward bulge in the jet stream.
In Montana, the record high temperatures will be past their peak beyond Tuesday as a sweep of slightly cooler air arrives at midweek.
For areas farther south, however, the most intense heat is yet to come.
This includes the lowest point in North America — Death Valley.
From Wednesday through Saturday, the temperature could come within 10 degrees of the all-time high ever recorded on Earth — a scorching 134 degrees set in Death Valley on July 10, 1913. The AccuWeather forecast calls for record-breaking high temperatures in the middle 120s each of these days. The average high for the middle of June in Death Valley is around 110.
Temperatures are forecast to peak at 126 Wednesday and 125 Thursday and Friday.
Click here to see more.
SOURCE: Renee Duff, AccuWeather meteorologist