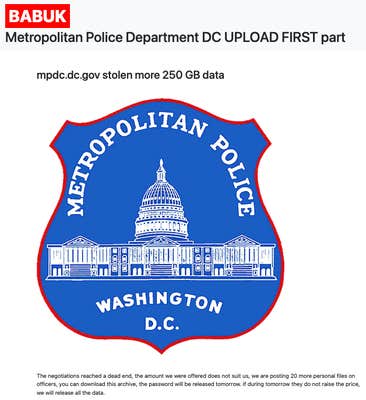 A group of cybercriminals have begun leaking what it claims to be internal law enforcement files after Washington, D.C.'s Metropolitan Police Department was targeted with ransomware last month.
In a post on the dark web Tuesday, the Babuk ransomware gang alleged that negotiations had "reached a dead end" after declining a payment offer made by police.
The post includes a download link for what the group says is around 20 personnel files on officers as well as screenshots of the data.
The files leaked thus far, according to VICE, surround "background investigations" on nearly two dozen officers and includes "psychological evaluations, polygraph responses, supervisor interviews, their credit history, information about their home, their social security numbers, date of birth, personal emails, home address, phone numbers, their driver's licenses, financial details, and their handwritten signatures."
The group followed up with a second post on Tuesday which included screenshots of what were alleged to be the negotiations with officers, spanning from late April to this past Monday, alongside a message stating: "You still have the ability to stop it."
Click here to read more.
Source: Daily Dot