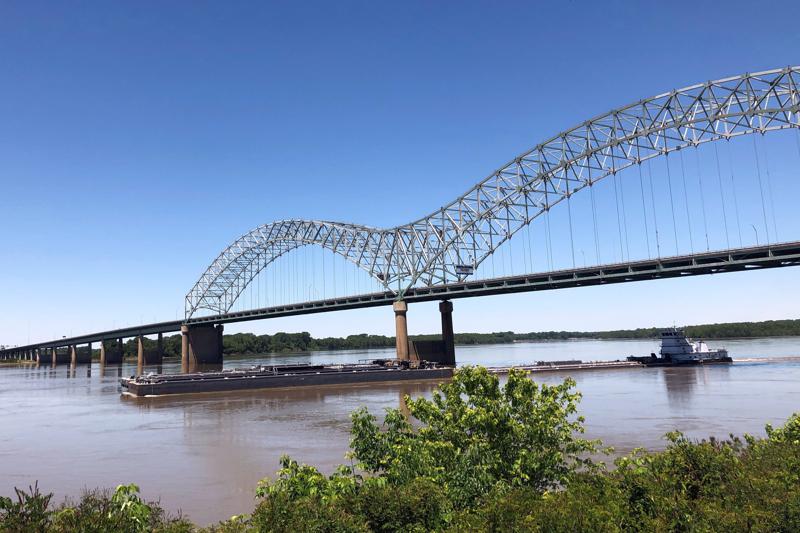 River traffic was stopped for three days after a crack was discovered on the Interstate 40 bridge connecting Tennessee and Arkansas. The Arkansas Department of Transportation revealed that a video taken two years ago showed "significant rust and the beginning of a crack" in the same area that prompted the closing down of the bridge.
Although river traffic has resumed, the bridge itself will remain closed indefinitely. Road traffic has been rerouted to Interstate 55 and the 71-year-old Memphis & Arkansas Bridge.
Lorie Tudor, director of the Arkansas Department of Transportation, says river traffic under the six-lane bridge was shut down Tuesday after inspectors found a "significant fracture" in one of two 900-foot (274-meter) horizontal steel beams that are crucial for the bridge's integrity. Engineers wanted to have the assurance that the bridge would hold up under its weight before reopening river traffic.
"Based on information provided to us by the Tennessee Department of Transportation, the Coast Guard has determined that transit under the I-40 bridge is safe for maritime traffic," Coast Guard Capt. Ryan Rhodes, captain of the Port of Memphis, said in a statement.
An extended closure of river traffic could hurt the region's economy as has the rerouting of the bridge's traffic. The Arkansas Trucking Association on Friday estimated the closure would cost the trucking industry at least $2.4 million a day because of the longer routes to cross the river. "That's an incredible expenditure that the industry can't simply absorb," Arkansas Trucking Association President Shannon Newton said.
Negotiations have intensified between the White House and a group of Republican senators over a potential infrastructure package. Democrats have said the shutdown highlights the urgent need for more infrastructure funding. Republicans have called for a infrastructure plan with a smaller price tag than President Joe Biden's and with a narrower definition of public works.
— BCNN1