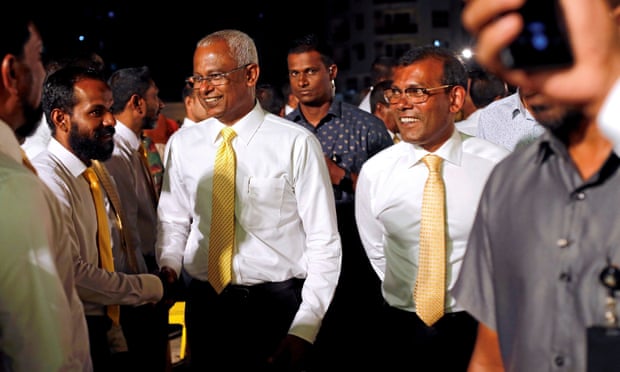 The former Maldives president Mohamed Nasheed has been left in a critical condition following an assassination attempt that also wounded four others, including a British national.
Police said they were treating the bomb blast, which occurred at about 8.30pm local time on Thursday evening, as an act of terrorism.
Nasheed, who was the country's first democratically elected president and is the parliamentary speaker, was being treated at ADK hospital, a private facility in the capital, Male.
He has undergone 16 hours of surgery for injuries to his head, chest, abdomen and limbs, according the hospital, which said on Twitter Nasheed remained "in a critical condition in intensive care".
Police said a device that had been fixed to a motorbike was detonated as Nasheed, 53, got into a car outside his home. Video footage from the scene showed the wreckage of the motorbike and wounded bystanders sitting on the pavement.
President Ibrahim Mohamed Solih described the blast as an attack on the country's democracy and economy, and vowed the perpetrators "would face the full force of the law".
Australian federal police investigators were due to arrive on Saturday to assist with the investigation, while officials from the United Nations office on drugs and crime have also offered support. No one has claimed responsibility for the blast.
Click here to read more.
SOURCE: The Guardian, Rebecca Ratliffe